Outreach and support programs that help build a better world for us all.
Helping clients overcome financial challenges is only half of what we do. Consolidated Credit is an active member of the community, providing support for national and local nonprofits, as well as partnering with organizations nationwide to provide critical financial education programs to help those in need.
The information below outlines Consolidated Credit's recent involvement in the community. If you would like to learn more or explore partnership opportunities for your organization, please call us at to connect with our outreach team today.
Proud partner of the United Way
Consolidated Credit is a proud member of the United Way of Broward County. In fact, our organization sits on the Chairman's Board and we work actively with the United Way to create significant lasting change in the community in the areas of Education, Income and Health – the building blocks for a better life – which positively impacts people's lives.
Department of Defense acknowledgment
In 2015 Consolidated Credit received a Certificate of Distinction from the U.S. Department of Defense for our continued outreach and support of the men and women who serve in our Armed Forces. A Statement of Support for the Guard and Reserve was also signed, reaffirming our organization's commitment to help military families, reservists and veterans find the financial help and education they need to be successful.
"We are committed to helping Americans who serve with dedication in our Armed Forces to get ahead here at home," says Hilton Sher, Vice President of Consolidated Credit. "Whether an individual is actively serving, on reserve, or has already transitioned to civilian life as a veteran, they face unique financial challenges that require specialized assistance, education and readily available resources for personal financial growth."
Year-round support for financial literacy
Consolidated Credit advocates financial literacy year-round. Although Financial Literacy Month may be in April on the calendar, we promote financial literacy and education resources 365 days a year. Through various outreach and education programs, we're able to help consumers build the financial literacy aptitude they need to be successful throughout the year.
U.S. Army Garrison-Miami recognition
In 2014 Consolidated Credit was proud to receive a letter of recognition and appreciation from the U.S. Garrison Manager here in South Florida. This letter recognized the ongoing financial education initiatives Consolidated Credit offers to service members and their families to promote better financial education.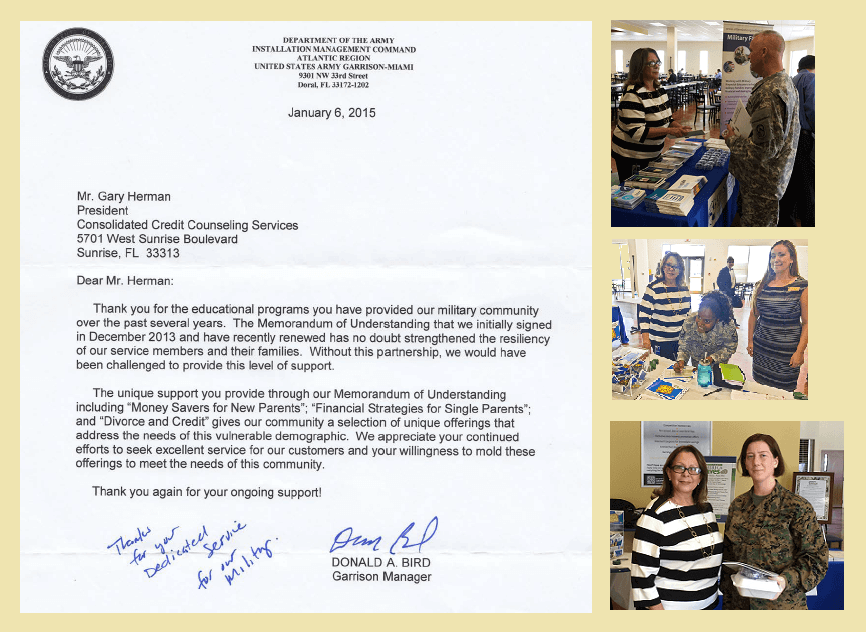 In-house financial education
Consolidated Credit's Community Outreach Team proudly offers the following in-house programs.
Consolidated Credit's Financial Education Advisory Council is made up of Consolidated Credit senior staff members and community leaders who serve as ambassadors of our financial education programs as a whole. The council comes together to use their experience, resources and knowledge to promote financial education and support relevant programs here in South Florida.
The Housing Outreach is made up of several programs and has allowed Consolidated Credit's HUD-certified Housing Counselors to reach over 6,700 eligible homeowners for Post-Modification Counseling. The team is part of HUD's Making Home Affordable Program, which provides free counseling to help borrowers take advantage of HAMP loan modifications. The program also works with Florida residents to help them navigate and take advantage of Florida's Hardest Hit Fund Program. The Florida Hardest Hit Fund is a state-run mortgage assistance program designed to help homeowners most affected by the real estate market collapse and recession in 2009. Consolidated Credit's Housing Department works to connect eligible homeowners with the assistance they need, through outreach and locally held Home Retention seminars. Part of the Housing Outreach program is a first-time homebuyer's course to prepare people to become successful homeowners, reaching 160 consumers through locally offered free workshops in 2014.

The Military Outreach program was greatly expanded in 2014 through partnerships with organizations like Southern Command and Army OneSource in order to reach more military service members, veterans and their families with critical financial education and support. Through these partnerships Consolidated Credit was able to host dozens of military-focused webinars and local seminars throughout the year. The Housing Department Manager, Maria Gaitan is a member of the United Way "Mission United" initiative, as well as the Supportive Services committee and Housing for Veterans sub-committee. Consolidated Credit was also the representative counseling organization invited to participate in a Veterans Outreach Event organized by U.S. Senator Marco Rubio.
Financial education partnerships
The following information outlines financial education partnership programs. Companies and nonprofit organizations alike work with Consolidated Credit to promote financial wellness as a part of their benefits packages – helping their staff to understand their financial world so they can be more focused at work. The list is in alphabetical order if you're looking for a partnership with a specific organization.
Boca Raton Regional Hospital. Consolidated Credit partnered with the hospital to provide an online portal of financial education resources and tools to help its 2,100 staff members find stability and achieve success. This support helps staff members address financial challenges in their daily lives, so they can focus on the industry-leading programs they run in oncology, cardiovascular disease, orthopedics, women's health and neurosciences.

Department of Treasury. Working in direct coordination with the U.S. Treasury Department, Consolidated Credit launched a robust multi-session program in the first quarter of 2014 designed to help homeowners understand and take advantages of HAMP mortgage modification initiatives offered by the federal government.
Early Learning Coalition of Miami-Dade/Monroe. In 2014 Consolidated Credit partnered with the Early Learning Coalition to provide financial education and onsite workshops for the coalition's 300+ employees. We also regularly participate in their Benefit Wellness Fairs.
Miami Lighthouse for the Blind and Visually Impaired. Established in 1931, this is the oldest and largest private agency serving the visually impaired in Florida. Consolidated Credit provides educational support and onsite workshops for employees so they can find stability and focus on serving members of the community.

This independent nonprofit organization works in conjunction with local government agencies in Miami-Dade County to provide financial coaching and wellness programs to residents. Through their partnership with Consolidated Credit, Operation Hope has been able to expand their services to include free housing counseling and credit counseling services, as well as a wider range of financial education resources and tools.

TOUCH Broward. This collaborative effort between more than 20 organizations and coalitions to support efforts that reduce financial disparities and improve the well-being of Broward County residents as a whole. Consolidated Credit provides monthly workshops, as well as small-group and one-on-one coaching and financial education materials.
The Tree of Life Ministries of Orlando. This nonprofit organization was created to serve the homeless population of Central Florida with the goal of helping people get a new start on life. Consolidated Credit provides members with budgeting and saving seminars and financial education materials to help them become self-sufficient through money management and financial training.

This pre-college preparatory program for youth in grades 9-12. It is designed to challenge high school students to develop the right skills, habits and attitude required to succeed once they move on to post-secondary education. Consolidated Credit's partnership allows students to gain access to key financial topics that are critical for their success after graduation.
Community relations
Consolidated Credit is an active organization in the community. Each year, the company and staff members dedicate time, resources and financial support to over 20 organizations. The following list outlines some of these endeavors; they are listed in alphabetical order by the event name if you are searching for something specific.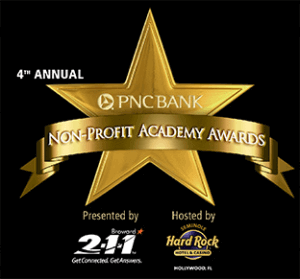 Andy's Pasta Dinner. Consolidated Credit also sponsored the 12th annual pasta dinner that raises money for LifeNet4Families. More than $118,000 was raised for the South Florida Cooperative Feeding Program. Consolidated Credit proudly supports LifeNet4Families and participates in this annual event each year.
American Heart Association. Consolidated Credit is a supporter of the American Heart Association and assisted with the kick off their Broward Heart Ball with this special event designed to bring awareness to the American Heart Association's mission on a local level for their continued support.
Food Drive for LifeNet4Families. Each year Consolidated Credit participates in LifeNet4Families' annual food drive. In 2014, employees held a drive throughout the month of December, collecting over 350 boxes and cans of food for the organization.

Henderson Behavioral Health Toy Drive. Consolidated Credit also participates annually in the holiday toy drive for Henderson Behavioral Health. This year, Consolidated Credit was able to donate over 150 toys for children of families experiencing economic hardship.

Junior Achievement 2014 Bowl-a-Thon. Consolidated Credit actively supports Junior Achievement of South Florida, with teams of employees participating each year in JA's Bowl-a-Thon. Staff members raise money and bowl in teams at the final event. In 2014 our staff was able to raise over $17,000 to support JA's mission of empowering youth to achieve economic success.

Mind, Body, Soul-utions Gala. Another event to support the efforts of Henderson Behavioral Health to provide accessible and cost effective behavioral healthcare services to community members throughout South Florida. Consolidated Credit sponsored the gala held in March designed to raise money and recognize Henderson's efforts that reached over 25,000 people in 2013 alone.

This critical program supports U.S. military service members, veterans and their families who live in Broward County. Through a partnership with Consolidated Credit, Mission United is able to provide ongoing webinars and local seminars and workshops designed to help those who serve to find financial success. This program reaches hundreds of service members and veterans every quarter, with resources and materials that focus on everything from housing counseling to effective strategies for transitioning to civilian life.

Reid & Fiorentino Celebrity Golf Classic and Call of the Game Dinner. Consolidated Credit participated in this event in March of 2014, lending our resources, time and money to support. All of the proceeds generated from the event benefit Lauren's Kids, a nonprofit organization dedicated to preventing child abuse and providing rehabilitation services to abuse survivors.
United Way of Broward County's 2014 Mayor's Gala. As a proud member of the United Way Chairman's Circle in Broward county, this is just one of the events that Consolidated Credit participated in over the course of 2014. This gala recognized the efforts of the 31 mayors within Broward County who work with the United Way to provide significant and positive changes for members of their communities.
United Way of Broward County's 2014 Rock United. Consolidated Credit sponsored this event held in September raised over $30,000 for local community initiatives. Each band participating in the event raised $1,000 and seven bands battled it out while earning funds to support community needs.