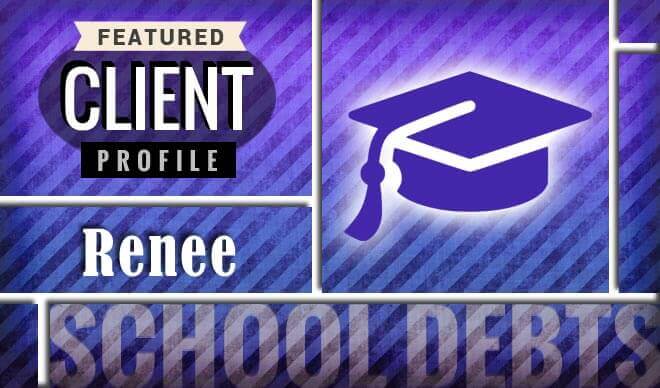 Client Profile: Renee G.
Renee G. got her first credit card at 19. Four years later, she had eight credit cards and was $19,000 in debt. She knew she needed help but just didn't know where to turn.
"I knew I needed help but I wasn't quite sure what to do," she says. "Then I heard a radio ad which led me to do a Google search and Consolidated Credit seemed like the most legit."
What was it about Consolidated Credit that stood out for Renee?
"Instead of someone else being in control of my finances, I still had a little bit of control," she says. "But that wasn't the case with the other companies. You had to commit to a certain amount of time."
There are many reasons why people rack up credit card debt, and for Renee it was just living expenses…
"It wasn't for anything fun," she discloses. "It was just living expenses for four years while I was in college. My parents paid for my tuition but I had to pay for books, parking, and groceries. I was working, but most of my work money went towards rent."
Renee was drowning and even though she made double the minimum payment she wasn't able to stay afloat…
"I was treading water," she says. "I was making double the minimum payment, but my principal balances were not going down at all. I was shelling out over $1,000 a month and I was getting nowhere. The interest rates were between 15 and 20 percent. I was spending so much money trying to pay off my credit cards that I didn't have enough money for living expenses. So I ended up having to make groceries and buy gas on the credit cards that I was trying to pay down every month."
A call to Consolidated Credit rendered relief…
"I felt like there was hope," she says. "I felt like there was light at the end of the tunnel."
Renee made it to the end of that tunnel four years after being on the debt management program. She couldn't be happier to see light in her budget…
"My debt is completely paid off!" she rejoices. "I joined the program in September of 2009 and I made my last payment in February 2014. Consolidated Credit was able to lower my interest rates. Some were brought down to as low as one percent."
Renee says her previous interest rates were between 15 and 20 percent.
She rejoices…
"The best thing about being on the debt management program is that it didn't hurt my credit. I was still able to get a car loan and a mortgage."
Renee didn't mind giving up her credit card, which is part of the program…
"I was so mad at credit card companies anyway that I didn't care that much," she says. "I looked at my situation and said, 'Well, I had been paying $1,200 a month for credit card debt before joining the program and now I'm down to paying $500 – so I have $700 to cover any need that I have in a month."
In addition to becoming debt free, Renee has learned a lesson or two…
"My ability to live without credit cards for four years really changed my mind set. It really changed how I budget and how I spend my money now. The extra $400 or $500, I was paying Consolidated Credit every month, I put towards bigger and better things like a house."
Renee wants everyone to gain the same financial freedom she did…
"If you're really struggling, if you feel like you are barely keeping your head above water pay your credit cards off," she advises. "I could've told myself, 'OK I'm locking all of my credit cards in the freezer but that wouldn't have helped. I would still be making credit card payments because the credit card companies were enjoying riding on the back of a girl trying to go to college. It took a shot at my pride but I needed help. I think that there's nothing wrong in asking for help."
She sings the praises of the company that helped her…
"I'm really happy that you do what you do – help lower interest rates like that," she says. "My interest rates got lowered, I was making a set monthly payment and it freed up some cash for me to live on. I was no longer living on my credit card. That makes a world of a difference."
Living expenses can get you into debt but you don't have to live with it
If your interest rates are also "ridiculously high," it's time to seek help. Like Renee, call Consolidated Credit to begin living again or to find out if your card qualifies for lower interests. It's always a judgment free call. Dial . If you want to find out how much debt you're in, take our free Debt & Budget Analysis online.