Consumer Debt: What Types of Debt Can You Hold?
Get to know your debts so you can craft the right financial strategies.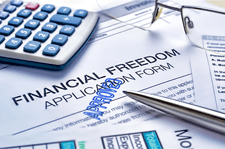 Do you know what kinds of debt you have? Do you understand the difference between your credit card debt and your car loan or mortgage? Understanding that not all debts are the same and knowing the differences between them is critical to managing your money successfully. With a better understanding of the kinds of debt you hold, you can pay them down strategically and use credit with better success.
Often people get into trouble with debts if they don't fully understand what they're getting themselves into – this is particularly true with payday advances and fast cash loans. If you've taken on a debt that's gotten you into financial trouble, you may need help in getting your finances back on track or, at the very least, to understand all of your options. Call to speak with a certified credit counselor about how we can help or take our Free Debt Analysis online.
Secured Debts versus Unsecured Debts
The first factor to identify with each of your debts is to determine whether they are secured or unsecured. A secured debt has collateral, while an unsecured debt does not. Your car loan and mortgage are both secured debts, because if you don't pay your creditor, they have the right to take your car or home to satisfy the debt. With a secured debt, you always offer up something that you risk losing if you don't keep current with your payments.
Unsecured debts don't have any collateral. If you don't pay, they can threaten, penalize, and even pursue legal action, but they can't take your property to satisfy what you owe – at least not without suing you first. Most credit card debts are unsecured, which is why creditors send delinquent accounts to collection agencies to try and get their money if you're not keeping up with your obligations.
In some cases, you can find secured credit cards if you don't have a good enough credit score to qualify for an unsecured credit card with no collateral. This typically requires you to deposit funds into an account. If you default on your payments, they can take money out of that account. Very rarely does it involve or require you to put up any real or personal property.
Typically unsecured debts will have higher interest rates than secured debts, because the creditors don't have the reassurance of your collateral if you don't pay.
Revolving Debts versus Installment Debts
The next difference between debts involves how you pay each month. With an installment debt, you pay a set amount each month. This is the case with your car and mortgage loans with the exception of an adjustable rate mortgage. Installment debts offer some advantage, because you know exactly how much you need to pay each month – there are no surprises when your bill comes with the amount you have to pay.
A revolving debt is a debt that doesn't have a fixed monthly payment. Credit card debts are revolving, because the payment is based on a percentage value of your total balance for that month. The payments typically range between 2% to 5% of the total debt owed or 1% plus the interest accrued.
These debts can potentially cause more trouble with your monthly finances, because the amount you pay may change based on how much you owe. This can be a benefit if you pay the debt down, because it will reduce your monthly payments. Carrying a big balance or having a big month of expenses, however, can drive your payments up and cause trouble with your finances.
Know the Source of Your Debts
Outside of these two distinctions in debts, there are a few other elements that come into play when you're working to understand your debts. The debt source is an important factor, because it helps you understand who is holding your debt. A debt source is the creditor or loan company that issued you the line of credit or loan.
Debt sources can play a major factor in determining how to pay down debts, because some debt sources characteristically have higher interest rates than others. A bank or major credit lender will usually have lower interest rates than a store or retail chain, such as a department store credit card or gas card. Identifying the debt source can help you determine which debts to pay back or down first, along with a thorough comparison of the annual percentage rate (APR) of each debt.
What Kinds of Debts Can I Consolidate?
Almost all debt consolidation options involve consolidating unsecured revolving debts, like your credit cards. In some cases, such as with student loans, installment debts can be consolidated with a special type of consolidation loan. While payday loans and fast cash advances are unsecured revolving debts, your contract may have included clauses that prevent you from consolidating these with the rest of your debts.
If you need help determining if any of your debts can be consolidated, our certified credit counselors are trained to identify what kinds of debts you have and the options you have to find debt relief. If you need help call for a free debt consultation at or take our Free Debt Analysis and we'll call you.
Consumer Debt Statistics
Think you're alone when it comes to having problems with your debt? Think again. Statistics show consumer debt is a big problem for many Americans – particularly with the current trend of economic hardship in the U.S. There are always solutions, though. You just have to know where to look. Our counselors are here to help. Give us a call so we can get you back on track and resting easy in no time.