American Spending Statistics
Compare your budget to average consumer spending in the U.S.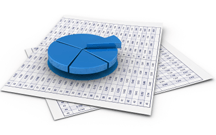 The amount of money you spend on the various needs and wants in your budget has a big impact on your ability to maintain financial stability. If you're spending too much of your income on food or overspending on transportation because your SUV is a gas-guzzler then it can be challenging to maintain a balanced budget.  With that in mind, it can be useful to understand how the average American household spends so you can compare your own budget and see how you stack up.
Below you'll find a chart and table with the latest Consumer Expenditures information courtesy of the Bureau of Labor Statistics.  Following that we detail how expenditures have changed over the past few years and how some expenses are broken up. For example, how much does the average family spend eating out versus eating in?
If you're facing challenges maintaining a balanced budget, we can help. Call Consolidated Credit today at or complete an online application to request a free, confidential debt and budget analysis with a certified credit counselor.
Consumer spending in 2014
The most recent full year of statistics from the BLS is from 2014. The chart and table below detail the budgeted percentages that the average American household spends on various expenses. You can find more information on how these expenses are broken down further below the table.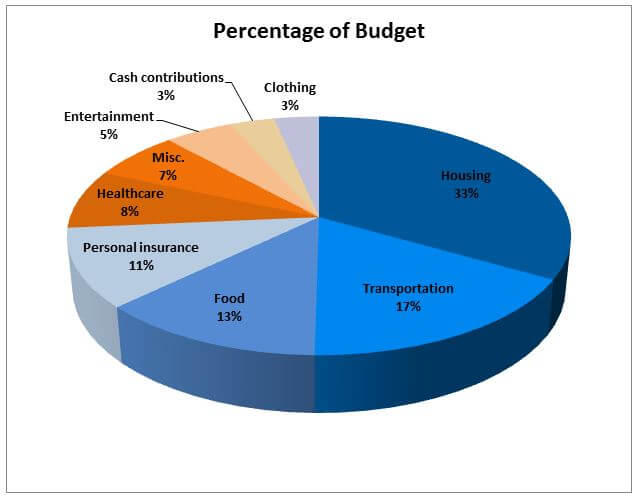 | Expense Type | Percentage of Budget |
| --- | --- |
| Housing | 33.27% |
| Transportation | 16.96% |
| Food | 12.63% |
| Personal insurance | 10.70% |
| Healthcare | 8.02% |
| Misc. | 6.63% |
| Entertainment | 5.10% |
| Cash contributions | 3.34% |
| Clothing | 3.34% |
Average income versus expenditures
Since the numbers above are provided as percentages, this breakdown can apply to any income level and can serve as a general guide for how much you should be spending, at most, on various expenses in your budget. But how much does the average family actually spend? For that matter, how much do they make?
| | Avg. annual income | Avg. yearly expenditures | Avg. free cash flow |
| --- | --- | --- | --- |
| 2012 | $65,596 | $51,422 | $14,154 |
| 2013 | $63,784 | $51,100 | $12,684 |
| 2014 | $66,877 | $53,495 | $13,382 |
Income has fluctuated in the past three years, and while families have adjusted expenditures in an effort to address those fluctuations, the reduction in expenses has not been enough to completely offset the reduction in income. As a result, families have less free cash flow throughout the year.
Why free cash flow is important
Free cash flow is the money you have available in your budget once all of your bills and other budgeted expenses are covered. It's generally the money people use to handle unexpected expenses that crop up throughout the month, and it's often the money people use to save as well – particularly if savings has not been set as a line item in the household's budget.
So less free cash flow throughout the year means the average American family has less of a safety net if they have an emergency or an expensive repair to cover. It also means families are likely to save less money throughout the year.
In general, families should be saving about 5-10% of their income.
Fortunately, given that free cash flow detailed about for the last year of data available equals about 20% of the total income the average family has available, that savings level is still entirely doable… as long as non-mortgage debt payments are kept low, too.
In general, families should be spending no more than 10% of their monthly income on non-mortgage debt payments.
If you're spending any more than that to eliminate debt then it will reduce your free cash flow and bring you closer to a paycheck-to-paycheck lifestyle that can be difficult to sustain month after month. In this case, you need to find a way to reduce the monthly burden of your debt payments, such as debt consolidation or credit counseling.
Focus on food expenses
Diving further into the BLS data, food costs are broken up by "food at home" and "food away from home" and the results are telling.
In 2014…
The average household spent $6,759 on food in total
$3,971 of that was for food at home
$2,787 was spent dining out
That means the average family spent roughly 58.8% of their food budget eating in, while 41.2% was spent dining out. It's important to note that eating out is typically more expensive than eating at home. With that in mind, a good way to reduce the financial burden of food costs on your budget is to eat more meals at home. If you can eat at home 80% of the time and eat out only 20%, it's likely you can reduce your total food costs and the amount of money they take up in your budget. As a result, you can improve free cash flow, making it easier to reach your goals.
Focus on transportation costs
Transportation costs include everything from gas and motor oil to insurance and even tolls and parking expenses.
In 2014…
The average household spent $9,073 in total to get around for the year
$2,468 was spent on gas and motor oil, so about 27% of total transportation costs
$1,112 was spent on insurance, so about 12% was insurance
The rest goes towards tolls, parking, repairs and other maintenance. Keep in mind, though, if you live in a no-fault state like Florida, insurance costs can easily be double or triple the cost faced in other parts of the country. As a result, if you live in a no-fault state then you can expect both insurance and transportation costs overall to be higher than the percentages you see here.
Focus on healthcare costs
The final expense that gets broken down comes in healthcare costs. In this category of expense, you have your insurance costs, plus things like paid deductibles and prescriptions.
In 2014…
The average household spent $4,290 on yearly medical costs
$2,868 of that amount (66.9%) was for health insurance
This can serve as a good way to assess if the healthcare you receive through your employer is a good value or not. See how much you paid for the year and also check how much you paid out-of-pocket. If healthcare costs are taking more than 8% of your budget or your insurance costs are significantly higher than the average, you may want to look into private insurance instead.
Defining "cash contributions"
Some people think "cash contributions" refers to savings and investments. In other words you make monthly contributions to your 401(k) or Roth IRA. However, in this case that's NOT what cash contributions actually refer to on this spending statistics breakdown.
Instead, it refers to cash contributed to people/organizations outside the household. So it includes things like child support and alimony payments that you make to an ex, as well as sending money to support adult children who live outside your home. Finally, it also includes charitable donations and tithes, as well as political donations.
For the record, cash contributions have seen significant declines for the second year in a row. The fell by 2.5% in the last year alone.