Counselor Q&A with Diana Lainez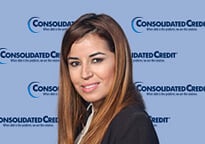 When Diana started off as a credit counselor, the first thing she did was get her best friend enrolled in the program, but it wasn't her friend who was in debt – it was her friend's daughters.
Her two teenagers were spending thousands of dollars at Victoria Secret and Macy's. So Diana counseled her friend to freeze her credit cards and come up with a budget. Soon she'll be debt free, but Diana isn't about to let her friend get into financial trouble again.
"She told me she's already received two letters from the bank that she's been preapproved to get more credit cards,"? Diana says. "I told her no, wait, please wait."? Diana prides herself on helping people get out of debt, giving people advice and helping others improve their lives.
What's the most memorable call you've received since becoming a credit counselor?
I recently received a call from a client whose daughter has cancer. She has to travel an hour and a half to take care of her daughter. This case was especially difficult for me because the daughter is 15 years old and has been suffering with cancer since she was 13.
How do you separate your work life from your personal life?
I try to separate it but sometimes it's difficult to forget some of the circumstances. I try to do the best I can for them because they are not just clients they are people who really need help.
There's always a reason why people fall into debt. What's the most common reason you've heard?
The most common I've heard is reduced income. Others include separation, divorce and poor money management which often leads to difficulty managing their household. They then resort to using credit cards to cover expenses.
What's the most bizarre reason that someone gave you for falling into debt?
This one is the most unusual case I've ever heard since I started here – Candy Crush (a very popular Facebook game). The client said her sister has been using her credit card to the tune of $1000 to buy coins to advance in the game.
What's the nicest thing a graduate from the program has said to you?
This one always makes me feel good. "I'm calling you back because you have the best service."? I'm not happy that they got themselves into debt again, but it's very comforting to know that they trust Consolidated Credit and call us back instead of a different company. We also receive many calls from people whose friends have completed the program and are very happy and satisfied so they referred them to us. I think that's the best advertisement.
Having the Knowledge You Need to Get Ahead
Unfortunately many of us were not given an education in proper money management in our formative years. And because of this we sometimes run into financial problems. But it's never too late to become financially savvy. If you are having a tough time managing your finances and need help getting back on the right financial path, call Consolidated Credit at to speak to a certified credit counselor for free. Or you can get started online with a request for a Free Debt Analysis.