Counselor Q&A with Stephanie L.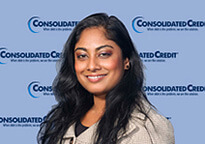 Before Stephanie started mending people's finances she was amending contracts as a legal assistant at a corporate law firm. The certified credit counselor says her new job is much more gratifying.
"At Consolidated Credit, the feeling that you get at the end of assisting someone is that you've relieved their stress – and hearing them say that they can sleep better at night is just phenomenal. It's a good feeling to come to work knowing that you're making a difference in somebody's life."
What's the most memorable call you've received?
"There was an elderly woman from Florida who said she had lost her son and her husband within a year. I had spoken to her a few days prior and she said she didn't have access to the Internet, so she popped in our offices one Monday and asked to see me. 'After speaking with you, I felt so much better that you could take care of my debt.' she said. 'I want to do this as soon as possible.' She couldn't stop hugging me and saying, 'I feel like God answered my prayers.'"
How did that make you feel?
"It made me feel like, 'Wow, you never know what someone else is going through,'" she says. "It made me realize how someone's debt can really take over their life in a stressful way. I felt good that we were able to consolidate her debt and get her more structured on her monthly finances."
Do clients cry?
"Yes – it makes me cry just talking about it," she says with tears in her eyes. "Just before this interview, I spoke to a woman who was crying over the phone because she was so upset. We did her budget, and I could see that the budget is really tight. I said, 'We have to find a solution for you.' She responded, 'Yeah, I didn't even have money for food.'
Stephanie says the woman was on a fixed income of $840 and was about $3,700 in debt.
"That's a lot of debt for someone on a fixed income," she says. "The woman was 78 years old and living alone,but at the end of the call it was a happy cry."
How do you handle these calls?
"It's emotional when you're dealing with debt and you're working paycheck to paycheck," she says. "You try to get them to know that there's a voice listening at the other end of the line. Even if we can't help them, we try to find a solution elsewhere."
What's the nicest thing a graduate from the program has ever said to you?
"I feel so much better that you are there and you can help us. I can't wait to get out of debt. Now I can actually see there is a plan. Now I can actually sleep better. I can see a light at the end of the tunnel."
How does that make you feel?
"It makes me feel good that they feel good," she says. "To know that within that one hour, it took a major stress off their shoulders, it was a call worth receiving."
There's always a reason why people fall into debt. What's the most common reason you've heard?
"Job loss and divorce because they've lost an income," she says.
What's a bizarre/uncommon reason you've heard?
"I knew I couldn't afford it, but I just couldn't resist."
What financial lessons have you learned since becoming a certified credit counselor?
"Better money management and how interest can affect you if you can't afford it," she says. "It's not just borrowing and paying towards that principal. You can dig yourself deeper in a hole if you're on a tight budget. This job makes you more educated about how to spend and makes you realize how easy it is to get out of hand."
And to those who are in over their heads in debt, Stephanie says…
"Do a monthly budget, see what you're actually spending and pay down your debt," she advises. "If you can afford the monthly payment, go ahead pay it down. If you're really drowning, Consolidated Credit can help provide you with information. Our advice and information is always free!"
Restore financial stability and mend the heartbreak of debt
If your debt woes are making you cry, it's time to seek help. Consolidated Credit has certified credit counselors who will help you find a solution to wipe away your tears and your debt. Call now for free, Or, to find out how much debt you're in, take our free Free Debt Analysis online.