Credit Counseling Services Help You Succeed
Certified debt counseling helps you find the right path forward.
What is credit counseling?
Credit counseling offers free financial advisement to consumers working to eliminate credit card debt and other debt-related problems. A certified credit counselor evaluates your debt, credit and budget to determine where you stand. Then they help you identify the right debt solution to use in your unique financial situation.
Learn more about certified counseling »
How credit counseling works
There are two main steps to the credit counseling process:
The first part of credit counseling is 100% free.

The counselor provides a free debt and budget evaluation.
They also look at your credit to assess your borrowing potential.
They walk you through the various options for debt relief available.
Together, you determine which option is right for your situation.

If you and your counselor determine that a debt management program is the best solution for you, then the counselor helps you enroll.

The counselor helps evaluate the monthly payment you can afford.
Together, you set up a payment plan that works for your budget.
The counseling team negotiates with your creditors to:

Reduce or eliminate the interest rate applied to your debt
Stop future penalties
Approve the adjusted repayment schedule

You pay off your debt according to the schedule set, using free resources from the credit counseling agency to help you build healthy financial habits.
If you have trouble making the payments at any time, you can call the credit counseling agency to help you work through the challenge.
Completing the program successfully rehabilitates your accounts and credit.
Know what to expect from your first session »
Get to know your credit counseling team
Each month we ask our counseling team a question about the work they do to help consumers get out of debt.
Q: What's the most memorable call you took?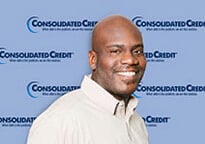 "There was a woman who called crying because she just couldn't take the calls from her creditors anymore. She had lost her son in an accident a few months earlier and used her credit cards to cover the funeral costs. I was proud that I was able to help her eliminate the $16,000 debt."
Ludole, Certified Credit Counselor
"I remember one client who had a significant amount of credit card debt because she was using credit cards to cover medical bills. She had cancer. We were able to save her $300 on her monthly payments. She was so relieved she couldn't stop crying. When her cancer went into remission, she called to thank me again. I felt really good. I'll never forget her."
Angelique, Certified Credit Counselor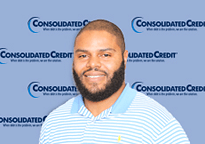 "My most memorable client was a 65 year old grandmother who came into the program with over $70,000 in credit card debt. Her grandson had a brain tumor and insurance didn't cover his medical expenses. She paid for the surgery. We were able to lower her payments and she sent me pictures of the baby after his surgery. He's doing fine now"
Jamel, Certified Credit Counselor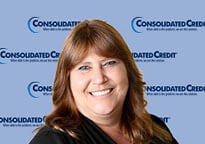 "A couple called me for help. The husband was pastor at a church and his wife was involved in the church's outreach programs. They'd gotten into debt helping their congregation and anyone in need. But they were overwhelmed and couldn't handle the payments anymore. They enrolled in the program and now they're of their credit card debts."
Kimberly, Certified Credit Counselor
Read more credit counseling and customer service stories »
Featured Ask the Expert: Can credit counseling help with collections?
This month's featured video explains how a credit counseling service can help you find relief from debts that have already passed to collections.

Debts in collections absolutely can be included on a debt management program. If it's with the original creditor, even if it's not with the original creditor, in a lot of cases we're able to get the original creditor to accept the payments back again.
Any card that's closed and you're still carrying a balance – any payments that you make directly to the creditor will be applied 100% to the balance. The only thing that may vary by account is whether there's still late fees or interest being applied.
Most of the benefits from a debt management program come before accounts get charged off – basically before an account gets closed is when we can have the biggest effect on saving you money and helping you get out of debt sooner. Once an account's closed, it's charged off – the bank has already written it off, but you still owe them the money, it still shows up on your credit report, and you're still obligated to make payments.
If it's sold to a collection agency and now someone else owns it, we can still attempt to help you with them, although it's not a credit card company and it may be a collection agency that we don't have a relationship with, it's included in our service for us to reach out to them and try to work out a payment plan for our clients.
The major benefits of the program really come when you're working with the credit card companies because they have an interest in seeing you rehabilitated, educated, and they want you back as a customer.
BONUS QUESTION:
Credit counseling agencies, in general, do not help with removing things that are accurate from a credit report. And, in fact, if you did owe the money and you were behind on it, and even if you make an agreement to pay it, the credit card companies are obligated to report – not why – but if something happened.
How do I know if credit counseling is right for me?
Asking for financial help isn't always easy. People often put off asking for help due to pride, feelings of embarrassment and a fear of being scammed. On the other hand, procrastination only gives your debt more time to get worse.
Evaluating the benefits of credit counseling
There are five main benefits provided when you work with a credit counselor:
A credit counselor provides an impartial professional perspective.
They're expert negotiators
They have a variety of free financial resources to offer
They're flexible when it comes to help you repay your debt
The advice they offer is free
Additional resources to help you decide to reach out: