Credit Counseling Services Help You Succeed
Free professional assistance to overcome challenges with debt.
When things are going well in your financial life, it's usually pretty easy to maintain a balanced budget and manage debt effectively on your own. On the other hand, when you encounter financial challenges you may need a helping hand to get back on the right financial path.
That's exactly the kind of assistance that a certified credit counselor can provide. Watch the video and read on to learn how this type of service may be able to help you. If you have questions, call us at for a confidential debt and budget evaluation at no charge.

Credit counseling doesn't have to be so confusing. Here's a super-easy 60-second explanation of how credit counseling works.
If you're facing financial distress because of debt, you have a few options when it comes to finding relief. It helps you zero in on the right option to use in your situation. That way, you can rest easy knowing your debt solution is actually going to work.
You start the process with a free debt evaluation to see where you stand. A certified credit counselor looks at your debts, budget and credit score to help you decide which solution will work for you.
If a debt management program ends up being your best option then your credit counselor can also help you enroll in the program. They can tell you how much you'll pay on the program and how long it should take versus what it would typically take on your own.
So if you're struggling to get ahead of your debt, we can help. Call Consolidated Credit today for a free debt evaluation with a certified credit counselor. Together we can find the best solution so you can finally beat your problems with debt.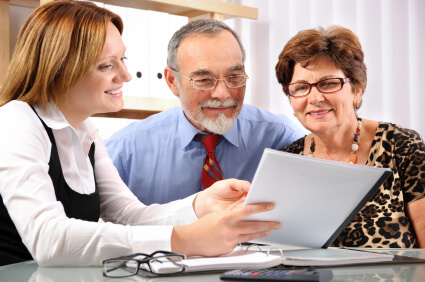 In simple terms it's a free service that helps identify the right debt solution for your needs. Every financial situation is different and there are several factors that play into the challenges you face. Unraveling those factors to find the core issues causing your debt problems is what certified credit counselors do.
The initial consultation is nothing more than an investigative session into your finances. You and the counselor look at your budget, debt and credit to see where you stand and to identify which solutions may work in your situation. The goal is not to drive you into one particular solution, but to find the solution that's the best fit.
With nonprofit credit counseling services this initial consultation is always free. Following the session, if it turns out a debt management program really is your best option then you can continue to work with the counselor to get out of debt. Otherwise, they will direct you on where you need to go so you can get the help you need.
How it works once you enroll
Following your first credit counseling session, you should have a clear path to financial stability. If your challenges with debt revolve around credit cards, then the solution you need may involve enrolling in a debt management program.
A debt management program is a form of assisted debt consolidation because it allows you to roll multiple unsecured debts into a single monthly payment at the lowest interest rate possible…
See what you can afford. Basically, you and your counselor work out how much money you can afford to pay on your credit cards and other unsecured debts each month without struggling or sacrificing other parts of your budget.
Set up a payment plan. Once you determine that amount, you set up monthly payment schedule where you pay the counseling agency one payment every month and they distribute the money amongst your creditors so you can pay back everything you owe in a way that's works for your budget.
Negotiate with creditors. The next step in the process is for the team to reach out to each of your creditors to get them to accept the payment schedule AND to reduce or eliminate the interest rate applied to your debt. The counseling staff contacts each creditor on the list and negotiates on your behalf.
Pay off your debt. Once the counseling team negotiates and your creditors accept the new payment schedule and reduce your interest rates, you complete the enrollment process and start making payments. In most cases, people complete a debt management program in about 36-60 payments.
Make adjustments as needed. If you get into trouble while you're paying off your debt, just call your credit counselor and tell them what the trouble is to find a solution. In some cases, they can help you add accounts into your program or work something out if you can't make a payment on time one month. Whatever the issue is, call your counselor and it can be worked out.
Build skills while you eliminate debt. During the program, you will also be directed to resources that can help you learn the skills you need to maintain financial stability once you graduate from the program. You can learn to budget and techniques for managing debt so it doesn't become a problem again.
Who can credit counselors negotiate with?
These types of services are primarily focused on unsecured debt relief If you're having trouble with things like student loans or mortgage debt, then you'll need a different set of professionals to help you in each of those cases. A counselor can refer you to a HUD-approved housing counseling service for challenges with mortgage debt and student loan consolidation specialists if you're having problems pay back loans you took out for your education.
Apart from those referrals, however, the role of a certified credit counselor is really to help you eliminate credit cards and other unsecured debts. This can include unsecured personal loans – even debt consolidation loans if you tried to consolidate on your own unsuccessfully in the past. This may also include unpaid medical debts, as well as some payday loans. Even debts in collections can be consolidated using a debt management program as long as the creditor or collector that currently holds that debt agrees to have it included on the program.
And that's one of the biggest advantages in using this type of service – they have the knowledge, experience and connections with creditors and lenders that are necessary to make adjusted payment plans on debt really work. It's all about what can be negotiated with your creditors and who they can get to sign off on your payment schedule.
So while this type of negotiation and this type of program work best with cards and accounts that haven't been charged off by the original creditor, the counseling staff may also negotiate with payday lenders, medical debt collectors, third-party debt buyers, and even lawyers if you're already being sued over a debt. The more debts you can include on the program, the easier it will be to get out of debt faster so you can achieve stability.
So basically, a credit counselor is here to make life a little easier when it comes to addressing challenges with debt. They offer five strategic advantages when you're facing debt problems in order to help you recover faster.
They offer an impartial professional opinion. Often financial professionals are pushing services because they make a commission on getting you to sign up for a certain solution. Not so with a certified debt counselor working for a nonprofit counseling service. They provide an impartial perspective on what will work for you, not what will make the company they work for a profit.
They're expert negotiators. Even if you've called yourself and tried to negotiate for lower interest rates or an adjusted payment schedule yourself and failed, a credit counselor can often succeed where you were denied. These agencies have established relationships with most major credit issuers and financial institutions and they're experts at getting those creditors to get on board with a client's program.
They can give you access to a wealth of free resources. From free budgeting tools to courses that are designed to help you build financial literacy so you can succeed, credit counselors can give you access to a wide-range of financial resources that will help you build knowledge and become a better money manager for your household.
They're flexible. Getting out of debt is not always a smooth path. By working with a team instead of using a do-it-yourself debt consolidation option, your counselor can help you get over any bumps in the road that might throw you off track. Our team works tirelessly to ensure you can stick to the program and succeed.
The advice they offer is free. The initial consultation with a credit counselor is 100% free of charge with no obligation to sign up for a debt management program or anything else. If there's a better solution available, the credit counselor will tell you what it is. So you can get the advice you need without incurring another bill to pay just for the consultation.
Learn more about the benefits of credit counseling with this article: 4 Reasons Consumers Need Credit Counseling
What CAN'T a credit counselor do?
Consumer counseling services can do amazing things for those they help, but it's not a magic bullet that's going to fix all of your financial troubles all at once. The initial consultation takes about 30 minutes to go through your entire budget and to review all of your debts. If you enroll in a debt management program, it can take you up to five years before you'll be completely debt free.
It's also important to note that a creditor can't do anything to remove negative remarks from your credit report. Over the course of a debt management program, making payments on time to build a positive credit history while reducing your overall debt load may improve your credit score. Some clients have seen their credit scores increase following the successful completion of a debt management program.
However, that doesn't mean that credit counselors actually DO anything with your credit or credit report. They don't make disputes on your behalf, work to remove negative items from your profile, or make recommendations on how you can "game" the system to get a better score quickly. Any improvement in your credit score that happens while you work with a credit counselor is earned naturally by making payments and eliminating your debt.
Credit counselors also won't settle your debts for less than you owe – that's called debt settlement. Settling debt for pennies on the dollar is not good for your credit profile and it's usually not the best way to get out of debt if you have other options available. It can seem like the easy way out since you get rid of your debts for less than the full amount owed, but the long-term damage usually isn't worth the relief you get.
By contrast, a credit counselor is always going to work with you to find a way to pay off everything you owe. Interest rates are often reduced to make it more affordable to pay back what your borrowed, but you always pay back what you took in-full. It's about finding the best way to return to a health financial outlook without cutting corners that could come back to bite you later.
Request help now, find relief today
Getting started on the road to freedom from debt is easier than you think. The hardest part of the process is usually the first step of asking for the help you need. Call Consolidated Credit today at or complete an online application to request a confidential debt and budget evaluation with a certified credit counselor at no charge. If you do, you'll be able to breathe easier today once you start to feel the relief of finally having a workable solution to the current challenges you're facing with debt.