Client Profile: In sickness and in health, Barbara's debt gets paid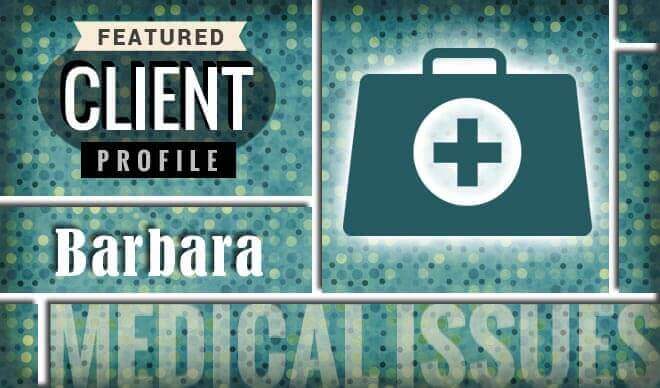 As a resident in a small country town between Rising Sun and Patriot, Indiana – the two larger towns on either side – 57-year-old Barbara enjoyed her quiet life. But that all changed when she began to miss her credit card payments.
She remembers it like it was yesterday …
"I couldn't keep up with the bills. I was sick, feeling really bad and just couldn't make the credit card payments. Everything was falling apart. It was terrible"
Then the collection calls started …
"The banks were calling me at all hours, Sunday morning before 8 a.m. to all hours in the evening," Barbara recalls. "We couldn't even eat supper in peace."
Her health started to worsen …
Between the mounting bills, the phone calls, and the stress, Barbara was hurting. Finally, her husband had enough and rushed her to the hospital.
"I could hardly breathe the night my husband took me to the hospital," Barbara says. "The doctor told my husband if he didn't act that night, I might have died from congestive heart failure."
When she came home from the hospital, she knew something had to be done …
And then it happened: "I saw a commercial for Consolidated Credit, and I thought, 'That's it, I'm calling today.'"
Barbara did call – and spoke with certified credit counselor Angelica O'Hare. "Angelica was wonderful. She helped me get my interest rates on my credit cards cut in half, knocked off the late charges and consolidated my debt into one payment," Barbara says.
But it didn't end there …
Whenever Barbara had a question, she would call, and Angelica or another counselor would always answer her questions or call her right back.
"I am so happy that I called Consolidated," Barbara says. "It's amazing what they've done for me. I'm making my payments each month and I'm happy. And I can breathe easy again."
We Can Help
Even if you're facing health problems and have medical bills piling up, we can help you get out of debt and get the collectors off your back so you can start to move ahead. Did you know you may even be able to include some medical bills into a debt management program? Call Consolidated Credit today at to speak with a certified credit counselor or take the first step now with a request for a Free Debt Analysis.