Real clients express their relief over successfully eliminating their debt.
At Consolidated Credit, our business is built on trusted relationships that we foster with each client we meet. The path to freedom from debt is a unique journey for everyone, but these stories from past clients can help you see how credit counseling services may be able to help you.
If you're struggling with debt, call or complete an online application to schedule a confidential debt analysis with a certified credit counselor at no charge.
Achieving the American Dream
Maria Altamirano and her mother are first-generation immigrants who struggled to adapt to a new credit system and find financial stability in the U.S. Consolidated Credit helped them overcome challenges with debt and achieve the American Dream of homeownership.
Traditionally owning your own home is part of the American Dream, but for many credit card debt can be a barrier to that dream. For Maria and her family, they conquered their credit card debt using Consolidated Credit's debt management program.
My name is Maria Altamirano. I had like a 29% APR on my credit cards and Consolidated Credit got me a really good APR of 2%. In 3 years, I paid my $20,000 debts. I always wanted to have a new house, but I always knew that in order for me to get the new house I needed to pay off my debts.
After I finished my debt management program and the housing counseling my score credit [sic] went to 790. Through Consolidated Credit they sent me an email – first time homebuyers. Victor was always available, at any time by emails, by phone calls and he helped me in every single step. From the time that I took the class, I got my house in 6 months. Buying a home – it was like a dream – because I always wanted to have a house for me and my family.
If you're struggling with high interest rate credit card debt, reach out to a credit counselor for a free consultation. And if you're ready to buy a home or need help staying in your existing home, Consolidated Credit's HUD-certified counselors are ready to assist you.
Finding Success in the Fact of Job Loss
Nadine and Gerald Ehrlich's challenges started when Gerald lost his job. The loss of income left them in a situation where they were on the verge of losing their home, but Consolidated Credit was here to help them take control and save their home from foreclosure.
I'm Nadine Ehrlich and I'm Gerald Ehrlich.
I got let go of my job after being with them for 24 years, and they were downsizing and they had to let me go.
We were devastated. We thought that was the end of the world.
All roads led to Consolidated Credit. I was fortunate enough to call up and got Barry on the phone and from then on he advised us every way to go. But everything was coming due at the same time.
He's the optimist, I'm the pessimist so I did more crying than he did.
She was worried.
He'd say, "Calm down. We're going to go from here."
You gotta go each step. This is what we've got, then you go to the next one – and he was right all the way down the road. And I said he was better than a psychiatrist. Absolutely.
He just put our minds at ease. We sat down, we talked to him – I mean everything changed because I wasn't in that percentage rate anymore. I was out of a job.
It qualified us for a lot of programs that Barry explained to us in detail and told us what to expect. We were doing better because we had changed a lot of things in our budget, but we still had this albatross around our neck which was the mortgage payment that was going up, and up, and up.
We went down to $804 and some-odd cents – 27 cents – and we were amazed. And it's also for the life of the loan and this was through HAMP: Home Affordable Modification Program. And again, it was a lifesaver.
And I got a call on a Friday, saying, "Do you want to accept the offer?" I was in tears.
Every day, I come home from work and go through the gate and I smile, because I know this is ours and that is a great and wonderful comfort. I'm just so thankful to him, to Consolidated Credit, I couldn't do enough for you guys in return for what you gave us, and that's how we feel.
Profiles of Success
We have more stories of clients who faced challenges with debt that they overcame with the help of Consolidated Credit. From trouble with overspending to tough life choices that led to financial distress, these clients overcame all obstacles to achieve stability.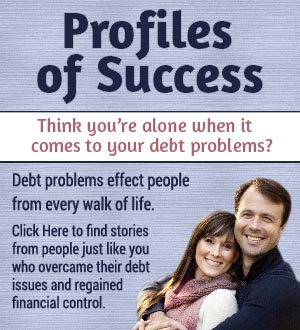 2015 Thankful Photo Contest
Budgeting
---
We have had good experiences with Consolidated Credit, it has really helped learning to control our spending habits and get our financial house in order.
---
Shanna S. from

Palm Beach Gardens, FL

I was up to my eyeballs in debt my first year out of college and didn't know where to turn. I had multiple cards, including major credit cards, store cards, etc and they had high interest rates. I saw a commercial for Consolidated Credit Counseling Services, Inc. and decided to call. The professional who took my call explained the plan in detail and how long it would take me to recover. He also gave me hope that life could still go on after the process and my credit would look even better! Well, its 3.5 years later and I have completed the process!!! I am so happy to be debt free and have learned a major lesson about budgeting, how to properly use a credit card and how to monitor my spending! Thank you Consolidated Credit!!!
If you'd want to see more reviews from clients who have received budgeting and money management advice from Consolidated Credit, you can click here to find more on this topic.
Credit Counseling
---
Jennifer H. from

Aloha, OR

After years of making bad decisions Consolidated Credit taught me to make the right ones. All I can say is this company cares. You can trust them and once you get started the sleepless nights and worry end.
---
Patrick S. from

West Lawn, PA

My wife and I had an excellent experience with Consolidated Credit Counseling Services and have gotten ourselves out of close to $35,000 of debt.
If you'd like to read more reviews related to the credit counseling services we offer, you can click here to find more reviews on this topic.
Debt Relief
---
Elizabeth H. from

Sea Bright, NJ

I researched, heavily, many consolidation and/or debt reduction companies, before choosing Consolidated Credit. From the moment I first spoke with a representative, I knew I'd made the right choice. I had about $27,000 worth of debt to dig out of, one credit card had a 34 interest rate.

My credit counselor was wonderful! I got set up right away with the payments. Anytime I ever called I got treated with such respect. There were months when I couldn't pay the full amount, or I often had to delay the payment. Never did anyone EVER talk down to me. In fact, it was like I had my own personal cheering squad. They were constantly encouraging and genuinely thrilled that I was on my way to being debt free. I cannot thank Consolidated Credit enough! Having that much debt and being so scared it would never be paid off was so terrifying, but they totally got me through. Thanks!!!
---
Debra T. from

Haverhill, MA

We recommend Consolidated Credit to anyone in need of paying off any substantial amount of debt as painlessly as possible. We just made our final payment on nearly $50,000.00 of credit card debt on just three cards. Before Consolidated Credit, we had been making payments that were less than the minimum so each month we were incurring late fees on top of the high interest rates. Consolidated Credit arranged to have our extremely high interest rates eliminated on two cards and reduced the third from 29 to 6. What this did was establish a fixed balance so that with each payment we actually saw our balances decrease. We were told that based on the total and the amount we could afford to pay Consolidated Credit monthly our debt would be eliminated in three and a half to four years! Just before the three year mark we had to work with Consolidated and the card owners to reduce our commitment. Consolidated did all the work and acquired a reduced payment we could guarantee. We finished our commitment and paid off EVERYTHING in three years and eight months!!!
Read more reviews related to finding credit card debt relief with Consolidated Credit, you can click here to browse more reviews related to this topic.
Financial Distress From Life Events
---
Gladys A. from

Lennox, CA

I had just been separated when I joined Consolidated Credit. Not only did my ex-husband leave, but he also left me with all the bills. Knowing I could count on Consolidated Credit to do everything for me was awesome.
---
Patricia C. from

Hartwell, GA

Due to multiple medical bills and pay cut, I was quickly heading into inability to make monthly payments on anything. I was faced with filing bankruptcy. Consolidated Credit Counseling Services, Inc was recommended to me by a friend and they were every bit of help that I was told they would be. I have recommended them to others that I know that need help due to medical bills and job cuts.
If you'd like to read more reviews from clients who found a way out of financial distress with Consolidated Credit following a major life event, you can click here to read more.
Looking for more client reviews?
Visit Customer Lobby to find more ratings and reviews from clients of Consolidated Credit.