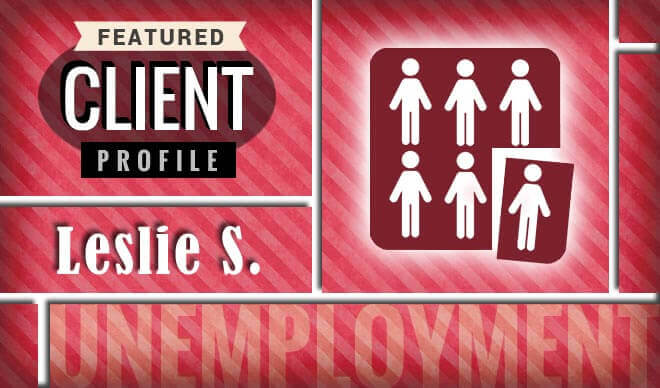 Client profile: Leslie S.
Wiping out $76,000 in credit card debt in just 4 years in spite of layoffs.
Leslie's last Christmas was the best holiday she ever had. Not because of what she received, but what she got rid of – $76,000 in debt.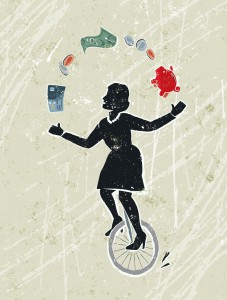 When Leslie's husband got laid off not once but twice, the car broke down and needed repairs, she still had to meet her kids' college expenses and keep the household up. With only one income and no emergency savings, her "saving grace" was the 12 credit cards that they owned.
This scenario is not unique to Leslie. Millions of Americans – for one reason or another – are unable to save for emergencies. As a result, credit cards become an avenue to make up for financial shortcomings and budget imbalances.
"I'm not a shopaholic," Leslie says, "but when we had a car repair we just didn't have anything in our savings to cover it so the credit had to come out. We had college expenses and it seems like everything kind of came at the same time. Every time I tried not to use credit, there was always some kind of emergency."
Leslie tried to keep up with her credit card payments…
"I tried to pay it down on my own but I was only going deeper and deeper into credit card debt. My payments to the credit card companies ate up a huge portion of my income. Having a monthly payment here and a monthly payment there zapped my financial strength," she says. "At some point I just realized there is no way I was going to pay it off if I kept working on it myself."
Leslie leaned on a friend and Consolidated Credit…
"It was actually my friend Liz who found Consolidated Credit," she says. "Our stories are similar and we helped each other hang in there through the rough patches."
Consolidated Credit put both friends at ease with their situations…
"It's the best thing we've ever done," she says of her and her friend's decision to enlist the help of Consolidated Credit. "The credit counselor who worked with both of us was very kind and encouraging. He never made me feel bad and that made a huge difference. He made me realize how serious my debt problem was and didn't judge me at all. He just said, 'You have a lot of debt but we can help you.' And Consolidated did!"
Leslie is glad she chose debt management over debt settlement…
"My husband and I had looked into debt settlement but it ruins your credit rating. I'm so glad I chose a debt management program. It's a decision I will never regret," she rejoices. "Consolidated actually saved us over $200 a month on what we were paying the individual creditor. Here I am 4 years later and I paid off every dime. My credit rating has gone from 510 to 740! Some interest rates before calling Consolidated Credit were as high as 26 percent and some were cut to as low as 7 percent."
Leslie revels in debt freedom…
"It feels amazing, although it hasn't really sunk in yet with Christmas and all the extra expenses," she says. "But I look forward to my next paycheck; it will be like free money, like getting a big $500 raise. You guys are great. I can't say enough about your debt management program."
Lesson learned on emergency savings…
"I'm going to start putting money into a savings account to make sure I have a nice cushion," Leslie says. "That was something I couldn't do that much while I was still on the program. Now it's going to be so much easier to put money aside for emergencies."
Prior to signing up for a Debt Management Program (DMP)…
"We just did things on credit," Leslie remembers. "Now we take vacations with money in our pockets and there's nothing to regret. We get back and there is no bill that's coming due. All we have is great memories."
Leslie has a new friend and some healthier financial practices…
"The biggest lesson I learned is that cash is your friend" she says. "I also learned to live on what I make. The inability to use credit cards was hard but it was the best thing that could've happened. It showed me that I can live within my means and don't have to rely on credit cards. If I don't have money in the bank to do something I just don't do it. I swipe my debit card but I watch my balance like a hawk."
In the face of adversity Leslie persevered…
"My husband got laid off in September when I had 4 months left on the program. 'Oh seriously! I haven't come this far just to fail,' I thought. If that were to happen again, we can bring half of the paycheck and half of what we make now and be fine. That much the debt management program taught me."
The holiday season stood in Leslie's way of celebrating her freedom from debt but she plans to soon on a budget…
"Since Christmas it's been non-stop partying for birthdays and all that," she says. "But I think we will go out and have a nice dinner or a little weekend getaway or something – one that will cost half as much as what we were paying Consolidated Credit for credit card debt, and still have money to spare."
Leslie stresses the ease of the program that relieved her stress…
"I can't say enough about Consolidated Credit. It's easy," she says. "As long as you have the money, you pay to Consolidated Credit, they pay your creditors on time, your creditors do not hound you (we didn't get not one collector phone call), and our creditors got every dime we owed them. They didn't get the 26 percent interest but those creditors made their money."
To those walking in Leslie's shoes, she says…
"It doesn't matter how deeply in debt you are, if you have the plan and support you can do it. Stick with the program, use the tools on the website, I used it a lot – How to Survive a Layoff, How to Survive the Holidays, etc. Don't get discouraged! Don't give up and eventually your debt will be gone. And when it's gone, it's just like a huge block off your shoulders. If I can do it, seriously anybody can!"
Like Leslie, get that block off your shoulder…
If debt problems are weighing you down, now is the time to take steps to lay it down. If multiple monthly payments are zapping your financial energy now is the time to consolidate into one monthly payment. If creditors are hounding you, dodging their calls won't solve the problem. If unexpected emergency after emergency is forcing you to pull out the credit cards, now is the time to build a rainy day fund. Whatever the financial situation, Consolidated Credit can help you.
Simply dial to speak with a certified credit counselor. And if you're in debt but not sure how much, take a free Debt & Budget Analysis online to find out.