Angelica O'Hare
Certified Credit Counselor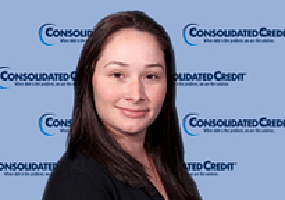 Angelica O'Hare is a second generation credit counselor. For seven years her mom helped clients with debt problems and for six months now Angelica has been doing the same. But before following in her mom's footsteps she was a "counselor's aid" following up on clients who were already approved in the program. "I loved when I did dialing," she said. "So I knew that I would love being a counselor." But although some of the calls makes her stop in her tracks she handles them like a pro and provides clients the help that they need.
What inspired you to become a counselor?
My mom was a counselor here and she loved it. I wanted to get more involved so I decided to become one. I love what I do, and I love when I can really help someone that's in debt. It's such a good feeling.
Since becoming a counselor what's the most memorable call you've received?
I think my most memorable are the ones that are like "Oh thank you!" The ones where they're screaming on the phone because they are so happy and excited that they will be getting some help.
You haven't been doing this for a long time, but since becoming a counselor give me an example of a call that really stuck with you.
One that stuck with me happened recently. A family couldn't afford groceries and because of our program they can get groceries, they can do things, their life isn't surrounded with this debt and the creditors calling them – we stopped that. Groceries are a big thing to me because when they say they can't afford it and they're eating bologna sandwiches every day – it bothers me.
Do they tell you what got them into debt and why they can't afford groceries?
A lot of them the wife is working, the husband is laid off and the unemployment check isn't enough and they're struggling to make ends meet. They use credit cards to live off of and now they're just drowning in debt.
How do you feel when you get these calls?
The first couple of calls get to you but you know you try not to get too attached, you try to keep it professional. But sometimes I do think about it, you know what I mean? I'm human and I'm always empathetic in my calls.
What's one reason a client has given you for falling into debt?
Gambling. I got one last week and at first he wasn't very open with it and I said you know, I need to know and then he said okay and opened up. He said, "I'm going to stop the gambling. I need to get this under control."
How do you separate your work life from your personal life?
The stories I hear all come back to me throughout my life. I learn from them. You know I watch my finances now, my budget – I pay more attention to it. Some clients their stories stand out more and it makes me stop in my tracks. And I have to take a breath and say okay. Some will start crying on the phone and you know I try to soothe them and let them know that right now what they're doing is taking a step in the right direction.
Don't Let Your Future Get Derailed by Debt
Oftentimes it is unforeseen circumstances like a job loss or lay off that derails our finances making it difficult to provide for our family. But thankfully there is help available to get us back on track. If your debt problems have you at a standstill, and providing for your family is becoming increasingly difficult, take charge now to get your life moving again. Consolidated Credit has numerous certified credit counselors standing by to help you if you let them.