Angelique Q.
Certified Credit Counselor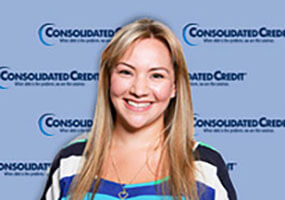 A few years ago, Angelique worked in an employment agency, recruiting nurse practitioners and physician assistants. Today as a certified credit counselor, Angelique is still dealing with health issues – financial health.
"It breaks my heart to see people in hardship and struggling financially," she says. "Helping them deal with their debt issues is so gratifying."
What's the most memorable call you've received?
"There was a woman who had cancer and a significant amount of credit card debt – because she was using the cards to cover medical bills," Angelique recalls. "After signing up with Consolidated Credit and we negotiating with her creditors, we were able to save $300 on her monthly payments. She was just so happy and relieved that she just couldn't stop crying. When she went into remission, she called to let me know how relieved she was. I felt really good. I'll never forget her."
Beaming with pride and satisfaction, Angelique says, "The program is designed to help the clients feel good, but it also makes me feel so good about what I do. She was so relieved that you could feel the burden being lifted off her shoulders."
There's always a reason why people fall into debt. What's the most common one you've heard?
"Reduction of income," she says. "Hours at work get cut and they're just living on credit cards, using them as a source of income. Another scenario is that they're living above their means and using their credit cards to pay the debt on the things that they can't really afford."
What advice do you have for people who live above their means?
"Get rid of things that aren't important, things that their income can't afford and take care of the necessities and bills like a car payment or mortgage," she says. "Get rid of a TV perhaps, smart phones, cut coupons and go back to the basics."
What's the most bizarre reason you've heard for falling into debt?
"Gambling" she says. "He was reluctant to disclose it, but he's gotten help for it. He was $22,000 in debt."
What's the nicest thing a graduate from the program has ever said to you?
"You made it painless, you made it easy. Thank you, I feel so relieved."
How does hearing that make you feel?
"At the beginning of the conversation, you can tell that a client is really nervous," she says. "But by the end of the conversation, they're much more open. They're relieved. It's nice to feel like you've actually gotten to know and help somebody who was so reluctant to talk, who was so distraught, worried, stressed and overburdened at the beginning of the conversation. And by the end, you can feel the relief, you're relieved with them. It's a great feeling."
Which calls are the hardest for you?
"They're all pretty hard, because everyone has their unique story and they're struggling. But when people have major medical issues, that really breaks my heart."
What were your thoughts about debt consolidation prior to becoming a certified credit counselor?
"My aunt worked here for a long time when I was younger, my cousin works here, so I had an idea of what it was. I only envisioned it with one type of client, one type of income, same struggle, same budget," she says. "I didn't know that there are so many people out there struggling and drowning in debt – and how different each client's situation is."
How has working here changed your outlook on life?
"I've come to realize that almost everybody has debt," she says. "And just how tight everybody's budgets are, and the different types of debt that people are carrying around."
To avoid falling into debt, Angelique says…
"Use your credit cards very carefully and responsibly. If you buy with credit, pay it off monthly and manage it well to avoid paying on interest and penalty fees. Pay yourself first before you go out and splurge. Put money away so you always have something to fall back on in case of an emergency so you won't be forced to use the credit cards."
Debt does not discriminate, we understand, let us help you
Consolidated Credit has helped over 5 million people get over their debt burdens. So you're not alone. We can help you take back control. The call is always judgment free and free of charge. Dial , to speak with one of our certified credit counselors. Or, to find out how much debt you're in, take our free Debt & Budget Analysis online.