Credit Card Debt Help Guide
Where to go when you need relief from high interest credit card debt.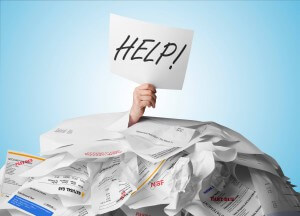 Credit cards can be both a blessing and a curse. While they give you purchasing power and make it easier to buy the thing you want, once the balances get to a certain level the monthly payments can become a real problem for your budget. You pay hundreds every month, but never seem to make a dent in your debt.
The information in this section is designed to help you understand where to go when you need help with credit card debt. If you have questions about which options will work best in your situation or you'd like to take advantage of a free debt and budget analysis from a certified credit counselor, call us at or complete an online application to get started.
Start by revisiting your budget and credit
Your first step before you seek outside help is to review your own situation to see if you can craft a strategy that will allow you to help yourself out of debt. To assess this accurately, you need to know the following:
How much credit card debt, in total, do you have to pay off?
How many accounts do you have and what's the interest rate on each?
How much free cash flow do you have available in your budget? (That's the money you have left over after you pay your bills and necessary expenses each month.)
Can you cut any expenses to free up more cash flow? If so, how much?
What's your credit rating?
Once you answer those five questions you can assess your ability to use do-it-yourself debt relief options. A credit card debt calculator can be extremely useful for helping you do the math in this step.
For example, let's say you have $9,000 in credit card debt on two different credit cards, each at around 15% APR, and you have the ability to make cuts in your budget to pay $450 per month. In this case, making payments of $450 per month you can eliminate your debt in-full in 24 months. That's actually a reasonable amount of time, which means you can handle your situation just by making a few adjustments.
Now let's say you have $15,000 in debt spread out over five credit cards ranging from 15% APR to 22% APR on a few rewards credit cards. You can only free up $400 for monthly payments in your budget. That would take 51 payments to eliminate on your own, so that's over 4 years. If you transferred the balances to a balance transfer credit card with a 0% APR introductory period for 24 month, you'd have to make payments over $1,000 to pay off the balance in-full.
However, if you have good credit, you could take out a debt consolidation loan. If you had good enough credit to qualify for a unsecured personal loan for $15,000 at 6% APR with a 4-year term, your payments would be around $350, which makes this a viable option.
When you're looking to help yourself out of debt, there are three basic options that you're going to consider:
A credit card debt reduction plan – this is the option of paying off debt using freed up cash flow, described in the first example above.
A credit card balance transfer – this is the option described where you transfer balances from existing credit cards to a new credit card with 0% APR for an introductory period; be careful with balance transfer fees that will add to your debt and make sure you can pay off your debt before the introductory period ends.
An unsecured personal debt consolidation loan – this is the last option described where you take out a personal loan at a low interest rate to pay off your balances, leaving only the loan to repay; make sure to only use an unsecured consolidation loan, since using something like a home equity loan puts your home at unnecessary risk of foreclosure just to pay off your credit cards.
Go to your creditors to see what they can offer
Once you've familiarized yourself with your debt and looked into your budget, call your creditors next. People often have the kneejerk reaction of avoiding creditors when their financial situation gets tough, but creditors are not collectors. Where collectors often act like you should be punished for getting into a bad situation, your creditors have good reason to work with you – you're a customer who gives them business, so it's in their best interest as well to help you keep your accounts in good standing.
Reach out and see if they'll be willing to work with you to get your debt under control. For example, let's say you have two reward credit cards at 22% APR, so the interest charges are eating up every payment you make. If you have good credit and you've always made payments on time, call the creditors to negotiate. They may be willing to lower your interest rates so more of your payments goes towards clearing the debt. Again, based on the new rates they're willing to offer, use a debt calculator to see what this does to your repayment schedule.
If you've lost your job and can't make payments until you find new employment your creditors may even be willing to suspend your payment schedule temporarily while you look for a new job. This is known as forbearance.
Talk to a certified credit counselor to get an expert opinion
If you can't find the right path on your own and your creditors either won't negotiate or what they offer isn't good enough, then your next stop should be to get a free consultation from a certified credit counselor.
Credit counselors are trained financial professionals whose sole job is to help distressed borrowers find the right path to debt relief. They're advice is usually offered confidential and free of charge, and they're required to help you identify the best debt solution for your unique financial situation rather than "upselling" you on a particular solution.
So by going to a credit counselor, they may be able to help you identify an option for consolidation that you may have missed. Otherwise, if your debts qualify and you're a good candidate, they may recommend a debt management program. This is a form of "assisted" debt consolidation. You consolidate through the credit counseling agency, who works with your creditors on your behalf.