Alexander F.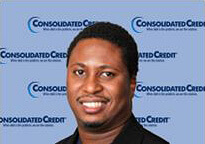 Alexander F. has been a customer service rep for the past 10 years. He attributes his longevity in the industry to his passion for helping people.
"I've done sales, but I like customer service better," he says. "I enjoy helping people resolve their problems. At the end of the day, or at the end of a phone call, I feel good knowing that I've helped someone out of a jam. That's my reward.".
There's always a reason why people fall into debt. What are some common reasons you've heard?
The one he hears most often: "A lot of them run into situations where they may be overwhelmed because they take out too many credit cards."
He continues, "It usually starts off where they open one credit card thinking that they can handle it and then all of a sudden they have ten credit card statements coming in at once. And for a lot of them it gets overwhelming so they seek help."
What's the nicest thing a graduate from the program has ever said to you?
"I love your program. Without your help it wouldn't have been possible for me to get out of debt."
And he never gets tired of hearing those happy comments.
"We get calls all the time from clients who are making their last payment or have just a few months left on the program," he says. "They often express how helpful and wonderful we've been and that they'll refer more people to the program. They even cry tears of joy."