Bibi K.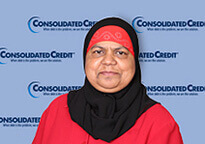 When Bibi K. was growing up in South America in the 1960s, she had no idea that there was a different culture in North America about credit cards and credit card debt,but that changed a decade and a half ago when she was hired at Consolidated Credit.
"I'd never heard of credit card debt or debt consolidation before I moved to Florida," she says. In her native Guyana, "We don't make debt, we don't take debt. The only types of debt I knew of were either a mortgage or a car payment."
Do you use credit cards?
"I sometimes use my credit card, but I pay it off at the end of the month," she says. "I always advise people and my children to not buy stuff that they can't pay for. You want to buy something on credit, go ahead and do so but make sure you have money to pay it off at the end of the month."
What's a lesson you've learned since becoming a client service rep?
"You hear some of the clients' stories and they will tell you they have kids in college, they don't get financial aid and they have to help their children financially," she says. "These stories have made me realize that you have to start saving for your children's education early."