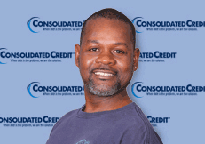 For the past 10 years, Cleveland had 3-4 credit cards at any one time. Still, since his credit limit was $300 to $500 per card, he had no problems juggling his payments. Then something terrible happened.
His credit card company upped his limit to $7,000.
"I was like, 'Whoa, zero interest!' I thought that was money in my hands, so I took that and got plane tickets to travel here and there. At that point, anything was necessary and everything felt like it was important. I racked up $9,000 in debt. But now, I'm debt free."
Now Cleveland helps other people get through what he did himself.
What inspired you to become a customer service rep?
"I like the feeling from helping people get out of debt," he says. "When I leave here, I leave with a sense of accomplishment. Clients have a sincere need, and we have a great and structured program to help these clients get out of debt and get on with their lives."
What's the most memorable call you've received?
"It was hearing a client who, upon completion of the program, admitted that she had a whole lot of doubt before signing up," he recalls. "She was thankful that we were able to put her at ease to the point where she was able to join and complete the program. She was very satisfied with the help she got from working with me and my colleagues. She had over $50,000 in debt and came out of the program debt free."
There's always a reason why people fall into debt. What's the most common reason you've heard?
"Loss of income, or reduction in income," he says. "And they end up using credit cards to bridge the gap for that lack of income. They're still trying to maintain the lifestyle they had by digging themselves deeper into debt."
Cleveland says these clients often pay only the minimum, which doesn't go towards the principal balance of their card. They eventually wake up and realize that they need to get that resolved.
What's the nicest thing a graduate has ever said to you?
"They've thanked me immensely," he says. "One has even gone as far as buying me a tie, one that I can wear with pretty much any outfit. That was a nice gesture and that speaks volumes of the help that we are providing."
How do you deal with a crying client?
"You can't disrupt that," he says. "I let them cry and reassure them that I understand what they're going through. Sometimes the crying has nothing to do with the debt, but has everything to do with other forces – like work or stuff that's happening in the home. I speak to that person like I would to my own brother, father, sister, mother, daughter or son."
What do your friends and family think about your job?
"They think the world of my job, to the point that some of them want to work here," he says. "They like the fact that I'm able to help people. I incorporate whatever I learn here into my personal life."
How has working here helped with your personal finances?
"Working here has helped a lot with my finances and understanding of how finances work, how money works and how we should be good stewards of our income or credit," he says. "It has also taught me what not to do."
Cleveland says in our community we often agree to co-sign for relatives and friends who because of their poor credit are unable to get credit in their name. But the CSR rep says if they don't have the credit to get something, avoid using yours to get it for them. Instead, get them to work on their credit issues. Help them become more disciplined and reassure them that they will be able to get whatever they want once they've achieved that.
"You have people coming on with debt that they don't own and they end up paying because they signed for it. 'It's in my name so I have to pay' they often say. Working here has prevented me from falling into that trap."
Do you have any parting advice for folks out there?
"If you find yourself struggling with debt, get help. You don't have to be alone in that situation. There are doctors to deal with medical issues, lawyers to deal with legal issues and certified credit counselors to deal with financial issues. Debt consolidation is just another avenue to get the help that you need. Don't be a victim. Don't be enslaved by your debt."
Break free from the shackles of debt
Debt doesn't discriminate. If you're having debt issues, you don't have to go through it alone. Don't hesitate and don't wait. Consolidated Credit has certified credit counselors who can help you get your debt woes under control. Call 1-888-294-3130 or to find out how much debt you're in take our free Debt & Budget Analysis.