Cleveland E.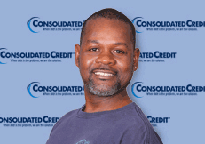 For the past 10 years, Cleveland had 3-4 credit cards at any one time. Still, since his credit limit was $300 to $500 per card, he had no problems juggling his payments. Then something terrible happened.
His credit card company upped his limit to $7,000.
"I was like, 'Whoa, zero interest!' I thought that was money in my hands, so I took that and got plane tickets to travel here and there. At that point, anything was necessary and everything felt like it was important. I racked up $9,000 in debt. But now, I'm debt free."
Now Cleveland helps other people get through what he did himself.
What inspired you to become a customer service rep?
"I like the feeling from helping people get out of debt," he says. "When I leave here, I leave with a sense of accomplishment. Clients have a sincere need, and we have a great and structured program to help these clients get out of debt and get on with their lives."