Greg J.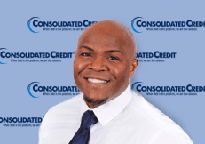 Greg's lifelong dream was to become an attorney, but while he was in college he landed a part-time job in the legal department at Consolidated Credit. Fourteen years later, he's still here – now as a Client Services Representative.
"I was promoted from the legal department to a team leader and assistant supervisor, and from there, I was promoted to a supervisor running the Canadian branch office," he says. "But what intrigued me is the opportunity to help somebody get out of debt; and helping somebody see the light at the tunnel means the world."
There's always a reason why people fall into debt. What's the most common reason you've heard?
"Poor money management – and that entails people not understanding credit," he says. "A lot of people say, 'OK, I'll start with something small like a $300 Macy's credit card.' But then they tie themselves to Macy's alone, and after they max out Macy's, they want to buy something from Walmart. So they go get a Walmart card and max that out, too. So now they have all these different entities instead of just getting a VISA they can use anywhere. These credit card offers are like predators, creditors will send you a credit card in a heartbeat."
Greg recalls how easy it was to get credit cards in college.
"I remember getting a credit card even when I was in college and working part-time," he says. "I love watches, so I went to Zale's and got me a nice watch for $300. Then they gave me a $1,000 credit limit, I figured I can get me a $1,000 watch now, then they gave me a $2,500 credit limit, then I said, 'Oh, I can get a $2,500 watch. And that's the problem – you jump at it because it's feeding a desire, a passion and people unfortunately use retail to cope with different things."