Hope G.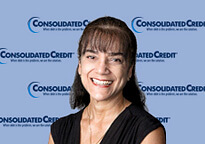 Hope has spent a lot of time on the phone. For 23 years, she was a customer service rep for AT&T, hearing complaints and resolving problems. For the past 11 years, she's been doing more important work at Consolidated Credit – taking calls from customers who are having problems with credit card debt.
"Every day, I touch somebody, I have more of an impact here," she says. "My previous job was like customer service – but it was calls about their bills. It wasn't like they were having a hardship. The people who call here are in trouble and they need a way to get out of it."
What's the most memorable call you've received?
"There was a lady going through cancer treatment, and she didn't know what to do," Hope recalls. "She was always sick and had a hard time paying her bills. It was so sad that I also started crying. Sometimes you can't help but feel for them."
How do you separate your work life from your personal life?
Hope says she uses her hobbies to block everything out.
"I do things with my grandkids. I go zip lining and tubing down the river, feed my fish and two turtles in my backyard pond. I also plant vegetables."