Jose F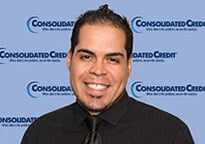 Jose knows what it's like to have money problems. Seven years ago, he and a friend opened a sandwich shop in Tampa, Florida. For 2 years, they split the bills and the profits. They did well. But then his friend's mother fell ill in her native Venezuela, and the friend had to return home. Jose couldn't afford to run the restaurant alone, and he ended up in debt.
"Money was tight," he remembers. "I didn't want to ruin my credit, and I wanted to have more control of my finances."
So he called Consolidated Credit and enrolled in the debt management program. But six months later, "I found out that they were hiring." Specifically, customer service reps.
"In addition to having customer service experience, I was really happy with the way they were handling my debt, so I decided to apply. Here I am five years later. And, because I went through the program myself, I know how tough it is. I do my best to help the clients get back on track."
How did making that last payment make you feel?
"Oh I was so happy," he says. "Going through the program, I was able to understand credit cards and interest rates. I'm more mature with my finances and with money. I only have one credit card with a zero balance that I use only in emergencies. Upon completion of the program and getting out of debt, my credit score jumped from a little over 500 to over 800."
Congratulations on getting out of debt Jose.