Misty L.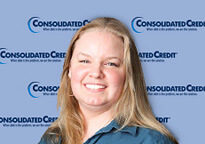 Misty Lynn didn't own a credit card until she was 33 years old – which was just last year.
"Most of the time, I use cash or I'll use the card and pay it the week after," Misty says. "I usually pay it off before the bill arrives in the mail. I want to purchase a house, so I want to build credit. Paying cash is great but when you do, you're not really getting any credit."
Where did you get your sound financial sense from?
"In a family with three kids, you have a lot of left-overs and hand-me-downs," she says. "We were more into spending time with each other than we were spending money. We were a values kind of family. Our parents gave us an allowance, but we had to learn how to save it before we could use it. If you have a foundation when it comes to saving and spending, you'll be OK, you just have to use it. Teach your kids."
So what would you say inspired you to become a client service rep?
"I like helping people," she says. "We are doing something nice for people. We're not a collection agency ruining people's lives and days. We're serving a good purpose, and I really enjoy what I do."