Richard M.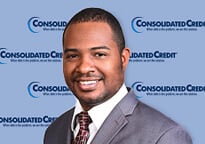 A few years ago, Richard was a health insurance salesman in Washington, D.C. Then he moved to Florida and became a customer service representative for Consolidated Credit. His old insurance job not only helped him talk to his new customers but has also helped him improve his overall financial health.
Richard says his previous job was working on commission, so sometimes he had money coming in – and sometimes he didn't. So he understands the plight of callers to Consolidated Credit, and he can sympathize and help.
"I like helping people get out of debt," he says. "With the insurance, some days you make money, others you don't – and you still have to pay your bills. So you have to save for the days that you might not. Working here has helped me become even better. I value money in a different way than I used to, and I'm a little bit more careful in how I use credit cards."
What's the most memorable call you've received?
"You can't really pinpoint one call," he says. "Every day is a different scenario."
Richard recalls a conversation he had with a client who couldn't put her car on the program – because it was a secured debt – and was adamant about returning it to the dealer.
"The other day, a lady called who was about to return her car to the dealer," he remembers. "I advised her not to return the car because she'll still be responsible for the loan even though the company re-sells it. I told her if she can't afford the car, an alternative is to find someone who will finance it in their own name and pass it on to them. She really didn't know she could do that and was very thankful that she called us."