Rosa D.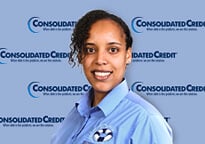 When Rosa moved to Florida from the Dominican Republic, she got an apartment next door to Consolidated Credit's headquarters. She always noticed the sign and dreamt of working there someday. But Rosa felt she needed to go to college first. A few years later, Rosa has moved out of her old place – and moved into the job she always wanted.
"I've always wanted to work here and help people with their debt," she says. "I used to live next door when I first came to this country. But I needed to go to college because I wasn't prepared for the job. So I got my degree in business administration and accounting."
But while getting that college degree, Rosa also got in over her head with credit card debt. So two years after becoming a customer service rep, she also became a client.
"It was too hard to keep up with the minimum payments on my credit cards and student loans so I decided to consolidate part of my credit card debt," she says. "When I first came here from the Dominican Republic, people told me taking out store credit cards would help me build credit, but that's not true. Store credit cards carry high interest rates and are the quickest way to get into trouble. I wish I knew then what I know now."
What do your friends and family think about your job?
As a satisfied client and employee, Rosa told everyone about Consolidated Credit's debt management program.
"My dad, brother, and cousin are on the program. I also had a friend who's graduated," she discloses. "I explained to them how the program works, and they agreed that it was the best option for them. They often thank me for the help and for the referral."