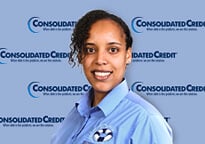 When Rosa moved to Florida from the Dominican Republic, she got an apartment next door to Consolidated Credit's headquarters. She always noticed the sign and dreamt of working there someday. But Rosa felt she needed to go to college first. A few years later, Rosa has moved out of her old place – and moved into the job she always wanted.
"I've always wanted to work here and help people with their debt," she says. "I used to live next door when I first came to this country. But I needed to go to college because I wasn't prepared for the job. So I got my degree in business administration and accounting."
But while getting that college degree, Rosa also got in over her head with credit card debt. So two years after becoming a customer service rep, she also became a client.
"It was too hard to keep up with the minimum payments on my credit cards and student loans so I decided to consolidate part of my credit card debt," she says. "When I first came here from the Dominican Republic, people told me taking out store credit cards would help me build credit, but that's not true. Store credit cards carry high interest rates and are the quickest way to get into trouble. I wish I knew then what I know now."
What do your friends and family think about your job?
As a satisfied client and employee, Rosa told everyone about Consolidated Credit's debt management program.
"My dad, brother, and cousin are on the program. I also had a friend who's graduated," she discloses. "I explained to them how the program works, and they agreed that it was the best option for them. They often thank me for the help and for the referral."
What's a memorable call you've received?
"There was this client who had just made his final payment on his $25,000 debt," she remembers. "He was so happy and satisfied with his success that he offered to give a testimonial. It was such an amazing feeling hearing and seeing someone being so happy to be done and so thankful for our services."
Rosa said she knows that the program works because she's still on it herself, but witnessing clients' display of gratitude reaffirms that what she does is worthwhile.
"Some people really need our help," she says. "It's such a good feeling when someone who owed $30,000 gets it paid off after five years. That's awesome!"
How do you deal with a client who calls crying because she's just so overwhelmed?
"As a rep, you have to be calm and do the best that you can to fix the problem," she says. "I always explain to them that they are taking the right steps to change their situation and that at the end, they'll look back and see it wasn't that bad. As they pay down their debt, their credit score may increase and they will learn how to be more careful moving forward."
How do you separate your work life from your personal life?
Rosa says on most days, she's able to keep the two separate. But she remembers a call she received just before her shift ended that stayed with her awhile.
"It was three minutes before closing," she recalls. "A gentleman called so frustrated that he said that he wanted to take his life. I was shocked but snapped out of it quickly in order to help him. I reassured him that we are here to help him and that taking his life is not the way to fix things. I was able to calm him down a bit. But I did think about it when I went to sleep. Some people are really going through a lot with credit card debt, but it makes me feel good that we can help them."
What lessons have you learned since joining the program and working with Consolidated Credit that you would like to pass on?
"Don't get too many credit cards, it's not necessary," Rosa cautions. "You only need two at most and avoid the store credit cards because they are limited to that store and usually carry high interests. If you must, take out a major credit card, one that you can use anywhere and for emergencies."
Don't let debt cloud your judgment
Credit card spending is a multibillion-dollar industry, and the average U.S. household carries $15,270 in credit card debt alone. If you are overburdened with credit card debt, do what Rosa did and seek help. Consolidated Credit has certified credit counselors that can help you get back on a good financial path. Dial 1-888-294-3130 or request a free Debt & Budget Analysis online.