Stanley U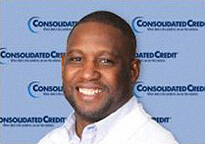 When he first became a Consolidated Credit customer service rep, Stanley was answering calls up to 100 times a day. Now he's a customer service supervisor, so he takes fewer calls ? but the ones he does can be particularly gut-wrenching.
The calls that move him the most are from grandparents, because many of them got into debt by overspending not on themselves, but on their children and grandchildren.
"When I hear the frustration in their voice and see how they're struggling ? they're really trying, but they can barely put food in their refrigerator or feed themselves," he says, "it really touches me.
"I spoke to a lady whose grandkids had run up her credit cards. They refuse to pay the debt, and the grandmother feels obligated to pay it back because the debt is in her name. I feel bad just thinking about that now."
He recalls a similar call from a grandfather?
"There was this older gentleman who felt it was his duty to feed and entertain his grandkids," Stanley recalls. "He often threw parties and took them on trips to fulfill what he says were his duties as a grandfather. 'Somebody has to feed them, somebody has to entertain them,' he always said. 'I have to take them on trips; they are my grandkids.'"
According to Stanley, this grandfather was spending $800 to $1,000 every month throwing parties and taking his grandkids on trips. He was at least $40,000 in debt.