Credit Counseling Services Help You Succeed
Credit counseling doesn't have to be so confusing. Here's a super-easy 60-second explanation of how credit counseling works.
If you're facing financial distress because of debt, you have a few options when it comes to finding relief. Credit counseling helps you zero in on the right option to use in your situation. That way, you can rest easy knowing your debt solution is actually going to work.
You start the process with a free debt evaluation to see where you stand. A certified credit counselor looks at your debts, budget and credit score to help you decide which solution will work for you.
If a debt management program ends up being your best option, then your credit counselor can also help you enroll in the program. They can tell you how much you'll pay on the program and how long it should take versus what it would typically take on your own.
So if you're struggling to get ahead of your debt, we can help! Call Consolidated Credit today for a free debt evaluation with a certified credit counselor. Together, we can find the best solution so you can finally beat your problems with debt.
Certified debt counseling helps you find the right path forward.
What is credit counseling?
Credit counseling offers free financial advisement to consumers working to eliminate credit card debt and other debt-related problems. A certified credit counselor evaluates your debt, credit and budget to determine where you stand. Then they help you identify the right debt solution to use in your unique financial situation.
Learn more about certified counseling »
How credit counseling works
There are two main steps to the credit counseling process:
The first part of credit counseling is 100% free.

The counselor provides a free debt and budget evaluation.
They also look at your credit to assess your borrowing potential.
They walk you through the various options for debt relief available.
Together, you determine which option is right for your situation.

If you and your counselor determine that a debt management program is the best solution for you, then the counselor helps you enroll.

The counselor helps evaluate the monthly payment you can afford.
Together, you set up a payment plan that works for your budget.
The counseling team negotiates with your creditors to:

Reduce or eliminate the interest rate applied to your debt
Stop future penalties
Approve the adjusted repayment schedule

You pay off your debt according to the schedule set, using free resources from the credit counseling agency to help you build healthy financial habits.
If you have trouble making the payments at any time, you can call the credit counseling agency to help you work through the challenge.
Completing the program successfully rehabilitates your accounts and credit.
Know what to expect from your first session »
Get to know your credit counseling team
Each month we ask our counseling team a question about the work they do to help consumers get out of debt.
Q: What's your most memorable counseling experience?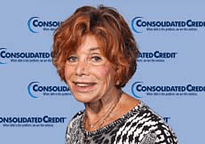 "I got a call from an executive with a major company. He was a big earner with high income, but he also had close to $200,000 in credit card debt. It moved me because it shows no matter how much money you earn, it doesn't mean you don't have problems. This man and his family had an autistic child who was severely brain damaged at birth. They used credit cards to cover schooling and medical procedures. Financial challenges don't discriminate, even if you have money." Sheila, Certified Credit Counselor
"One day a client started telling me about her situation and it was so frustrating I almost wanted to cry. But we're here to be strong for clients to give them the strength to cope. She was facing problems with the IRS and about to lose her car. She only had 4 months left on the program, but she wanted to give up. I said, "You still have a home, you have a place to live, so stick with it and you will be OK." Once she completed the program to eliminate almost $100,000 in debt, things did get better." Lilisbeth, Customer Service Representative
"There was a lady who walked into our office requesting to speak to someone. She had a shopping addition so bad she rented a little warehouse to store all the stuff that she was buying. She said, "Sometimes I don't even wear the stuff. There are shoes in there that I bought and just stuck in there.""
Hope, Customer Service Representative
Read more credit counseling and customer service stories »
Featured Ask the Expert: Can I add accounts after I'm already enrolled?
This month's featured video focuses on whether you can add accounts to a debt management program once you're already enrolled. Our President Gary Herman explains the policy for adding accounts by calling to speak with your credit counselor. He also offers some advice on discussing accounts you plan to leave off with your counselor before you enroll.
You can add cards to the program after you're already on it. You just need to be careful about why that card wasn't put on the program when you first started.
Be aware if you want to leave a card off the program – for whatever reason – it's extremely important that you talk to your counselor in advance about why you're leaving that card off the program.
If something unfortunate happens after the fact, you can add it to the program.
How do I know if credit counseling is right for me?
Asking for financial help isn't always easy. Pride, feelings of embarrassment and a fear of being scammed can weigh heavy, leading to delays in asking for help. On the other hand, procrastination only gives your debt more time to get worse.
Evaluating the benefits of credit counseling
There are five main benefits provided when you work with a credit counselor:
A credit counselor provides an impartial professional perspective.
They're expert negotiators
They have a variety of free financial resources to offer
They're flexible when it comes to help you repay your debt
The advice they offer is free
Additional resources to help you decide to reach out:
How credit counseling relates to debt management and debt consolidation:
Part of the challenge of finding the right debt solution is understanding all the options available. Differentiating between credit counseling, debt management, debt consolidation and debt settlement is enough to make your head spin.
Here is an easy break down:
Credit counseling is a service that helps you identify the right debt solution to use in your unique financial situation
Debt consolidation and debt management programs are two solutions a credit counselor may recommend.
Debt consolidation is where you take out a loan or a new line of credit to achieve lower interest rates and better monthly payments on your debt.
If you can't use a debt consolidation option because (a) you have a low credit score or (b) you have too much debt to pay off to use a consolidation because the payment will be too much for you to afford, then you may be able to use a debt management program repayment plan.
You enroll in the program through a credit counseling agency, that administers the program and negotiates with creditors on your behalf.
It's also important to note that all these solutions are different from debt settlement. Credit counseling looks for a way to repay what you owe in-full in a more manageable way. Debt settlement attempts to clear away debt by offering a partial payment; this damages your credit and looks bad to creditors. Credit counseling exists to rehabilitate, rather than cause more damage.