2014 Markets Close with a Bang
With increased consumer spending, economists forecast it will.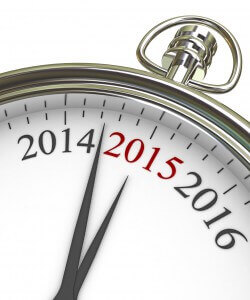 As Americans take on more debt, the economy improves. As the economy improves, Americans take on more debt – and financial analysts say this cycle is good for economic growth.
Americans seem to be recovering from the remnants of the recession as 2014 closes with nearly a one percent gain in total growth from last year. The latest boost in the economy is an indication that consumers have likely renewed their trust in the markets and are thus borrowing more. This upward trend is seen in 17 of the nation's top 25 metro markets where employment is on the rise and more people are searching for work according to data from Equifax. This suggests that because more people are entering the labor force, they feel confident in taking on new mortgages, auto loans and credit card debt.
"In general, it appears the economies of many of the largest metro areas are doing well and those cities are growing again," Trey Loughran, president of Equifax Personal Solutions says. "People are finding and keeping their jobs, which in turn allow them to feel confident enough to use credit to buy a home, a car or new furniture."
Residents of Dallas, Houston, Denver, Phoenix and Boston borrowed more than they did the same time last year while Miami, Cleveland, Detroit, Chicago, Philadelphia, and Las Vegas borrowed less.
Consumer debt on a national level grew nearly one percent in the third quarter of 2014, compared with the same time a year ago the report says. While all 25 of the top metro cities saw increased borrowing for cars and credit or bank cards, the same cannot be said for mortgage loans. Although Floridians and Las Vegans are taking on auto loans and credit card debt much like the rest of the country, they are still feeling the sting from the housing market crash of 2008 and are reluctant to buy.
Commercial sales are high, unemployment is down and Americans in the Midwest plan to take on more debt in the coming year. Data from Huntington Bank's annual Economic Index also suggests that although consumers will spend more, over 4 percent will exercise healthy spending habits.
"The survey confirms the recovery we are seeing in our local markets as unemployment rates and more recently gas prices decrease," George Mokrzan, Huntington's director of economics says. "We anticipate that unemployment rates will continue to fall further in these states through 2015. We also believe that consumers here are expecting the same based on the feedback used to generate the Index."
Residents of Michigan, Ohio, Indiana, West Virginia and Western Pennsylvania believe the worst of the recession is over and are making plans to take a vacation, do repairs on their homes and spend more on cars next year. Of those taking a vacation, 3 out of 4 will spend between $2,000 and $5,000 and will pay cash.
"It's great to see Americans are feeling confident about the markets again," says Gary Herman president of Consolidated Credit. "It's also great that although consumers plan on borrowing more, they also plan on being more conservative with their spending. This is perhaps a sign that consumers took some essential lessons away from the Great Recession. However, consumers who plan on taking more debt in 2015 must make sure their finances can handle it."
Herman has seen first-hand the devastating effects the recession had on consumers' finances, as his agency saw a surge in demand for credit counseling, debt management and housing counseling assistance. To keep the markets growing, consumers must be careful not to take on debt they can't afford.
As Americans go into the New Year feeling optimistic about their finances, it is vital that they resolve to take a good look at and review their budget  to make sure their outlook is stable. Consumers must endeavor to keep credit card debt balances low and aspire to keep their debt-to-income ratio at 36 percent or less. A DTI measures how much of a person's paycheck is going toward paying debt and is a great way to make sure they're not becoming overburdened with debt or taking on too much debt.
For more tools, tips and calculators check out Consolidated Credit's Debt Learning Center, whose mission is to provide free financial education to the public. To help manage your finances, to help you maintain a healthy financial outlook use a debt repayment calculator to make a plan. If you're in debt and need help sorting it out you may dial 1-888-294-3130 to speak with a certified credit counselor. Or to find out how much debt you're in take a Debt and Budget Analysis online.