Preparing Your Finances to Transition to a New Job
4 out of 5 workers will pursue new opportunities in 2015. Here's how to do it right.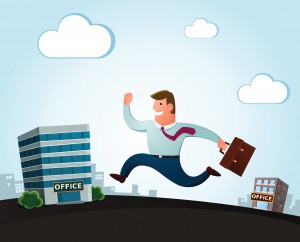 Over 80 percent of workers in the U.S. aren't satisfied to stay put and maintain their current employment in 2015. That's according to a new poll by the global career experts at Right Management. The survey shows just how many American workers may be planning big career move over the next twelve months.
The poll goes on to define how the average worker feels about their current employment and the possibility of a job change in the coming year:
86% will actively seek a new position
Another 8% are networking in the hopes something will turn up
1% aren't actively looking, but they have an updated resume on hand just in case
Only 5% are happy where they are
"Looking for new career opportunities can be exciting, and finding a better job can definitely be beneficial for you and your family," says Gary Herman, President of Consolidated Credit, "but you have to make sure your finances are ready ahead of time to support you during the transition. Any time you change jobs or move to a new company or career path, you're assuming a certain amount of risk, so your finances should be prepared to support you."
3 financial tips when you transition to a new position
Review your budget. Ahead of the transition make sure to review your budget and cut any unnecessary expenses. Also check to make sure you're not overspending on things like dining out or entertainment. A streamlined budget will help you avoid the need to rely on credit during the transition if something happens with your new job or if you have a gap in your pay cycles.
Minimize debt before you give your two weeks. Having debt on the books when you move to a new position just adds to the risk. If you eliminate your credit card debts ahead of a job transition, you cut those bills out of your budget. This way, if something happens, your credit cards won't go into default because you can't pay your bills.
Make sure you have your safety net ready. Ideally you should have at least 3-6 months of budget expenses set aside in case something happens with your employment. That's even more critical when you quit one job and move somewhere else. If it doesn't work out, this savings will keep you out of debt while you look for something else.