Americans Double Up on Housing
When rent increases and incomes don't, many Americans are making ends meet by rooming together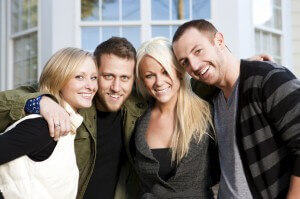 Americans have resorted to living smaller to save big: as of 2012, 32 percent of adults were living with roommates or other adult family members, up by more than 25 percent from pre-recession days in 2000.
Those are the findings from a new study by real estate site Zillow, which found "Stagnant incomes and rising rents" are the reason behind this "doubling up" phenomenon.
Two years ago, the size of the American household was 1.83 adults, an increase from the 1.75 adults who roomed together in 2000. These living arrangements have cost the United States 5.4 million households.
Bad news now, good news later
"The rise in doubled-up households is a troubling sign of the times and starkly illustrates one of the prime drivers behind weak home sales these days," says Zillow chief economist Stan Humphries. "But there is a silver lining behind this data. If and when these compressed households begin to unwind and these millions of Americans do start to create their own households, demand will bounce back."
In other words, when these forced renters make enough to move out, watch out – home prices might soar because there will suddenly be more demand.
According to data from Zillow, if the average number of adults per household returned to 2000 levels, Los Angeles would gain 315,000 households, New York 300,000 households, and the Miami/Fort Lauderdale area would add 230,000 households.
No one knows when
While Zillow is confident this will happen eventually, no one is predicting a month or even a year. Why? Because these renters have yet to see their incomes budge.
The people doubling up make 24 percent less than the median income of people without roommates. That means saving to buy a house may take longer for these folks even when the housing climate improves. In 2000 the median household income was $24,000. In 2012, even with roommates included, it only jumped to $29,000 – an increase of just $5,000.
High costs of rent and a stagnant economy may not have been the only factors that led adults to bunk together. Between 2007 and 2012 more than four million Americans lost their homes to foreclosures. Why? Creditors were qualifying folks for loans they clearly couldn't afford.
As Americans await the rebound of the housing market they can start preparing with free housing counseling.
For buyers who'd prefer to have their own place, Consolidated Credit's housing department offers a wealth of free Homebuyer Education Counseling programs. Call 1-800-435-2261 to speak with a HUD-approved housing counselor today.