Failing a Financial Stress Test
Those who pledge to save are starting to make headway and reach their goals.
Each week, Consolidated Credit searches for financial research that can help you deal with your debt and budget. This week…
The interesting study
Stress tests help us understand the physical, emotional and mental impact of stressors in our daily lives. The Certified Financial Planner Board of Standards, Inc. (CFP Board) recently conducted a financial stress test to see how average Americans spread over a wide range of demographics felt about their financial situation.
The big result
The short version – Americans don't feel good about their finances, and it's bringing added stress into our lives.
Almost nine out of ten people surveyed (86%) feel stressed about money at certain times in their lives. What's worse, about one in four feel stressed all the time. It's a constant worry about having enough money and staying afloat.
The fascinating details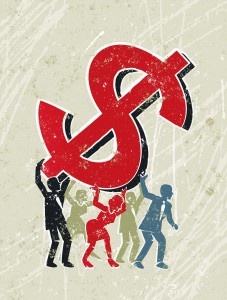 For the most part (except for the one in four who are stressed 24/7) the majority of Americans feel stressed about their finances for a specific reason:
24% stress at the end of the month when bills are due
15% feel extra pressure around holidays when out-of-budget expenses pop up
11% get stressed around the 15th of April when income taxes are due
The survey also shows that most of us stress about specific financial concerns:
23% stress about debt
14% worry about healthcare costs
13% are concerned about their retirement
Of course, it's troubling to see that 21 percent of respondents are also concerned about everyday expenses – costs that should be easily covered in a budget. It's also troubling to see that 13 percent of respondents believe stress inhibits their ability make key financial decisions, while another 28 percent say it hinders at least some of their decisions, but not all the time.
What you can do
"You can't allow stress to inhibit your ability to move forward – especially when it comes to your money," says Gary Herman, President of Consolidated Credit. "You have to plan for what you can, save for the unexpected, and craft effective strategies that minimize debt so you can achieve your long-term goals."
Basically, Herman and the certified credit counselors on his team advise people they work with to take all of those small steps that may seem time-consuming, but which really pay off in the long run. They encourage people to set up a budget to decrease stress over everyday costs. Most consumers also need a strategic plan to manage debt to reduce debt-related stress. An effective saving strategy also provides a safety net to offset the financial stress of unexpected life events, as well as providing a roadmap to achieve a successful retirement strategy.
If debt is holding you back or financial stress has left you wondering where to turn or what steps to take, we can help. Contact Consolidated Credit at 1-888-294-3130 or through our easy online application to connect with a certified credit counselor for a free debt and budget analysis today.