Americans 'Optimistic' About Housing
A new consumer poll finds more Americans have regained a sense of financial security.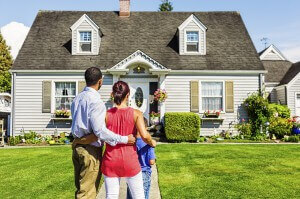 Americans may not have complete confidence in the economic recovery, but one area is definitely looking up: the housing market.
On Nov. 7, Fannie Mae released the results from their October 2014 National Housing Survey, which asked 1,000 Americans about their attitudes toward renting and owning a home, the economy, their household finances and overall consumer confidence. They found that though only 40 percent of respondents thought the economy was on the right track, 45 percent said they were expecting their financial situation to improve within the next year.
Some other highlights of the October survey included:
The 45 percent of respondents who said they expect their personal financial situation to improve over the next year was an increase of 7 percent from last year.
Those expecting their financial situation to worsen decreased to 10 percent of all respondents.
Change in home price expectations rose to 2.8 percent, reversing a four-month trend.
Those who say it's a good time to sell your home increased to 44 percent – an all-time survey high.
"It's hard to predict exactly how the housing market will react, but the recent Fannie Mae poll is indicative that Americans are finally going to start buying and selling their homes again," said Maria Gaitan, Housing and Business Development Manager of Consolidated Credit.
For anyone looking to buy a home right now, Gaitan recommends looking at it as a semi-permanent or permanent investment. This means taking plenty of questions into consideration, and not just the obvious ones about the how safe the neighborhood is.
What you should consider before buying a home
1. Is this the right time for you to buy a home?
While the market may be improving, you should ask yourself some questions first: Do you have a steady source of income and solid budget? Is your job stable? Is there any possibility you may have to relocate for any job- or family-related reason in the next few years?
If you answered yes to the last question, consider whether getting a 15- or 30-year mortgage is worth getting stuck to the property for that amount of time.
2. What can you afford to pay for your mortgage?
The Federal Housing Administration says that your monthly mortgage payment should not exceed one-third of your income. Mortgage lenders will also calculate your debt-to-income ratio, which measures how much income you have versus your household expense account and how much debt you have. That debt includes any student loans or credit card debt you may have. We recommend consumers keep their debt-to-income ratio below 36%.
3. What is the house that best serves your needs, both present and future?
When you're looking for the perfect home, it can be tempting to buy bigger, newer, and with more amenities than you really need. Here are some things you should consider before buying:
Are there enough bedrooms and bathrooms? Are there too many?
Do all the appliances and mechanical systems work? What are the things that will need replaced?
Will your furniture fit?
Do you like the floor plan? Does it make sense for your family?
Is there enough storage space?
Imagine the house through each season, in good weather and bad weather. Will it be structurally sound, year-round?
Brainstorm potential problems so you can ask your real estate agent and your future neighbors. Is there noise from the highway or high school football stadium down the street? What is the neighborhood like at night? How are the schools? Is there public transportation nearby?
Though this is far from a comprehensive list, it's a good starting place if you are looking to buy your own home. And remember, this is your home, so don't be in a rush to buy — the average homebuyer looks at 15 houses before choosing the one they want to buy.
One last note – if you're a first-time homebuyer, we also recommend going through a HUD-approved homebuyer education workshop. Consolidated Credit regularly holds homebuyer workshops for free at our home office, or you can find HUD-approved courses online.