Americans Still Turning to Lending Alternatives
And when that doesn't work, they look to each other for loans
Each week, Consolidated Credit searches for unreported financial research that can help you deal with your debt and budget. This week…
The interesting study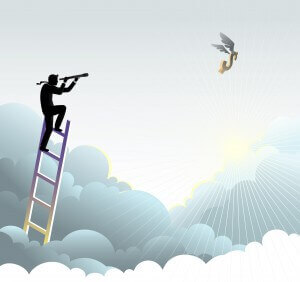 A new study by a company called Elevate finds close to 50 percent of Americans who were financially stable before the recession are now financially strapped.
The big result
Seventy-one percent of Americans are in debt. Yet 58 percent are lending money to family and friends. This means some people who are borrowing money are also lending it. Why? Perhaps they borrow not because they have plenty to spare, but because they know exactly how it feels to have nothing.
"The definition of 'middle class' has fundamentally changed as people who were once moderately or even very financially successful now struggle to make ends meet and are faced with real, day-to-day financial challenges," says Ken Rees, CEO of Elevate. "We call this expanded group of Americans the 'New Middle Class.'"
That new middle class consists of millennial men and women between the ages of 18 and 34 years old. More women than men identify with the lower middle class or "working class than men do.
The fascinating details
The survey also found:
53 percent of Americans are over $10,000 in debt

83 percent say they had either accepted a hand out or borrowed money for an emergency over the last five years

44 percent has less than $2,000 in savings; more than half do not have an emergency savings fund 

46 percent say they've had to borrow money either from people they knew or from alternative financial services such as payday loans, check cashing services, installment loans, prepaid debit card, or pawn
These statistics do not surprise Gary Herman, president of Consolidated Credit, a company that has been helping people get out of debt for over 20 years, and whose clientele fits this demographic.
"As the economy started to get better, we saw a surge in enrollments into our debt management program," Herman says. "Due to a reduction in income, many struggled to put food on their table and keep a roof over their head. They turned to alternative lending institutions that borrow with high interests. While they provided relief for these financially strapped individuals, the relief was only temporary. Many of them come to us seeking a more permanent solution – financial and debt management."
What you can do
The recession left in its wake a grim new reality for the middle class. Over one third of consumers from the survey say financial worry keeps them awake at night. Many still struggle with the cost of housing, healthcare and credit card debt and feel they will never regain the financial security they had before the recession.
Herman says credit counseling and debt consolidation may help paint a different picture for these folks. You can consolidate your existing debt to make a plan that eliminates it as quickly as possible. At the same time, you gain access to resources to learn better techniques for budgeting and saving, so you can avoid problems in the future. This keeps you away from lending alternatives which can often be problematic.
Consolidated Credit has helped over 5 million people gain freedom from debt. They also offer free educational materials to help Americans take charge of their finances. If these statistics describe your current situation it's probably time to speak with a financial advisor. Consolidated Credit's credit counselors are certified and are standing by to take your call. Dial 1-888-294-3130 for free. Or, to find out how much debt you're in take our free Debt and Budget Analysis online.