Are Consumers Confident or Confused About Home Buying?
Answer: They're confident – but not completely informed, either.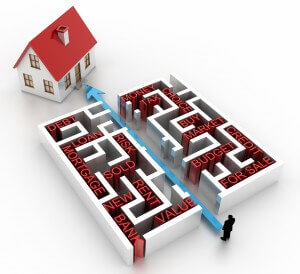 The majority of consumers say they "know and understand" the home buying process, but many also admit they are unaware of how much money they need to pay closing costs.
That's according to a survey of more than 2,000 adults by Wells Fargo. The September poll showed that 74 percent think they grasp the complex process of buying a home. Yet 44 percent said "they know nothing or very little about the closing costs required for buying a home."
Also, some of what those polled said they know, is in fact, wrong. For instance, 44 percent told Wells Fargo they believe they'd need a 20 percent down payment. "In reality," Wells Fargo says, "a 20 percent down payment is not a requirement on many loan programs."
All of this led Wells Fargo to wonder if the industry is doing enough to educate consumers.
"Our survey also suggests we have an opportunity as lenders, nonprofit agencies and real estate agents to better inform Americans about credit ratings, mortgage costs and housing affordability," says Franklin Codel, head of Wells Fargo Home Mortgage Production. "This would help demystify the home-buying experience for many consumers."
Consolidated Credit has been trying to demystify that experience for years, says Gary Herman, President of Consolidated Credit.
"Purchasing a home is not an easy process," warns Herman. "Double check all the information you gather because mortgage requirements can change in the blink of an eye. So it's essential you keep up with all the current information, carefully look it over and adjust your home buying strategy, as necessary."
Ready to buy
Another interesting aspect of the survey shows that although consumers are confused about the home buying process, "their financial houses are in order." Wells Fargo believes this could increase their chances of purchasing a home. Those polled revealed:
82 percent believe they know how to handle their personal finances ("how to save, earn and invest money, and work within a budget").
82 percent said they usually do not spend money they don't have.
63 percent have a "rainy day fund."
Only 27 percent "tend to spend their money and not think twice about it."
Seeking help for buying a home
Even though a large number of those polled are financially fit, it's clear they need help in the housing education department. Herman recommends talking with a housing counselor because they have the experience and expertise to guide consumers through the difficult process – and they don't represent a specific real estate company or bank.
"A certified housing counselor can help you understand the ever-changing world that is the mortgage industry," says Herman. "They can also clear up any misunderstandings with things such as closing costs, down payments and give advice on mortgage assistance programs."
Particularly for first-time homebuyers, the process can be intimidating. Pre-purchase homebuyer education programs can help you understand what you're getting into and what you need to be successful. In addition, HUD-approved programs may provide certain benefits, like waiving at least a percentage of mortgage insurance if you're opting for an FHA loan. Call us at 1-800-435-2261 to speak directly with a certified housing counselor to learn more.