Why are Women So Afraid to Make Financial Decisions?
The thing is, maybe they're not. And companies like Prudential don't like it.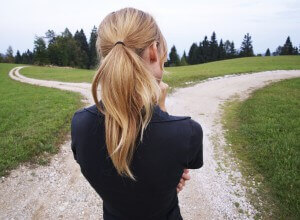 Since the recession of 2008 women "are gaining confidence in their ability to manage money." That's according to a recent study by Prudential. And it seems that Prudential is not very happy about it. Why? Let's use the words of Lori Fouché, CEO of Prudential Group Insurance.
"Just because women are less worried, doesn't mean they feel ready to make important, long-term financial decisions. What is more worrisome is they still aren't seeking help from financial professionals to do so."
Aha. They aren't looking toward professionals to help them. In 2008, 48 percent of women polled used a professional. That number plummeted to 31 percent in this latest Prudential poll. One of the reasons the numbers may have dropped off could be age. If the poll is split by generations the numbers read:
Forty-five percent of Baby Boomers use a professional
Thirty-one percent of Generation X use one
Fifteen-percent of Millennials use one
Fouché thinks "the declining use of financial professionals may be due in part to the vast amount of investment research and tools available on the Internet, which Millennials and Gen Xers are often more likely to use than Baby Boomers."
So the younger generations could feel empowered by utilizing resources that are readily accessible to them on their personal devices. More numbers that support women's growing confidence include:
Since 2006 the percentage of married women managing their financial and retirement strategies jumped 13 percent to 27 percent
Sixty-five percent of married women as breadwinners control retirement and financial preparation
Fifty-percent of basic contributors to the family wages, or women who do not earn a paycheck at all, still evenly share in financial strategy-making
The other side of the coin
To be fair to Prudential, there are signs that women don't have complete control over their financial future. These signs include:
Seventy-five percent of women surveyed think sustaining their lifestyle during retirement is "very important." But merely 14 percent are "very confident" in doing it
Just thirty-three percent believe they are prepared or ahead of the game when it comes to preparing for retirement
Only 31 percent are knowledgeable about annuities "very" or "somewhat well" and 38 percent comprehend mutual funds
Gary Herman, president of Consolidated Credit, believes there are effective money management strategies available to women that they can review at their leisure.
"Consolidated Credit has a whole section of information geared specifically for women," Herman says. "It highlights the importance of budgeting so when retirement age finally comes around, a woman or a married couple will have the appropriate amount of funds to enjoy their time off together."
Start planning for your retirement now
If you need help planning for your golden years or just want to talk with a professional about improving your money management skills, don't hesitate to speak with one of Consolidated Credits certified credit counselors today.