Average Credit Card Debt Balance $7,200
Is the average American family falling back on bad credit habits?
Each week, Consolidated Credit searches for financial research that can help you deal with your debt and budget. This week…
The interesting study
This year's credit card consumer debt study was just released and the findings have some experts concerned that consumers are falling back into bad habits when it comes to personal credit card use.
The big result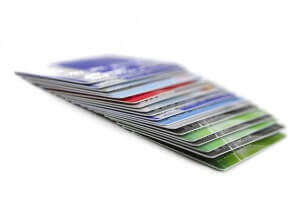 The average outstanding credit card debt balance for an American family is at $7,200. Even more unfortunate is that number is actually on the rise – and the trend is unlikely to slow down in at least the near future.
The fascinating details
Although most consumers curtailed credit use and focused on debt repayment during the start of the financial crisis that led to the Great Recession. Now that the recovery is in full swing, however, the data shows consumers may be falling back into old habits:
U.S. consumers ended 2014 with a record-breaking credit card debt total of $57.1 billion.
That's 47% more debt than we had at the end of 2013 and 55% more than the end of 2012.
CardHub projects the trend will continue in 2015 for a 5% increase during the year. So we'll end 2015 with about $60 billion in credit card debt.
Credit card defaults are at a 6-year low.
The average household carries about $7,200 in credit card debt.
Now here's the catch: The experts at CarbHub believe consumer credit card debt reaches a kind of critical mass at around $8,300. Their theory is that once a consumer or household goes over that amount of debt, they can't keep up and start to struggle. If that's true, then a large number of consumers are skirting the line of having too much debt to handle. As a result, credit card defaults may be on the rise by the time the next survey is released.
What you can do
Carrying outstanding credit card debt is fine if you can handle the bills. You aren't really doing yourself any favors by carrying balances from one month to the next because you're wasting money on added interest charges. Still, you can use credit cards and have debt without struggling as long as you're strategic about it.
However, since credit card debt payments are based on how much you owe in total, taking on too much debt is risky because the payments begin to outstrip what you can afford in your budget. You have to keep debt minimized in a way that means you can always afford your monthly bills without struggling or juggling payments.
This means paying attention to key debt ratios in your finances that basically serve as an early warning system that your finances are headed for trouble. In total, your debt should never exceed 36 percent of your income – that's not just for credit card debt either; it includes your car loan and mortgage as well. Credit card debt payments should not consume more than 10 percent of your budget each month. If your minimum payments start to inch any higher than that, it's time to consider debt consolidation and/or credit counseling.
If your balances are a little higher than you'd like them to be, we can help. Call Consolidated Credit today at 1-888-294-3130 to speak with a certified credit counselor for free or request a consultation by completing a free online application.