Research of the Week: Don't Let Record Bank Fees Bust Your Budget
Out-of-network ATM fees, surcharge fees and overdraft fees continue to rise across the country.
Each week, Consolidated Credit searches for financial research that can help you deal with your debt and budget. This week…
The interesting study
The financial experts at Bankrate monitor the costs associated with personal banking each year. They just released their report on bank fees for 2017.
The big result
Across the board, it cost you more to bank this year than it did last year, continuing the record-breaking trend.
Out-of-network ATM hit an all-time high for the 11th year in a row with a national average of $4.69.
ATM surcharge fees broke records for the 13th year in a row at $2.97; the fees your bank applies also hit a high at $1.72.
After a slight decrease last year, overdraft fees went back up to break records. Nationally, the average overdraft fee sits at $33.38.
The fascinating details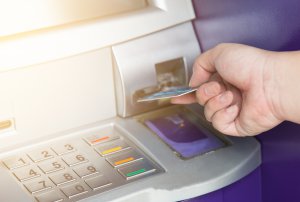 According to Bankrate's annual data, ATM fees have risen 55% over the past decade. The fee your bank charges for using an out-of-network ATM rose 1.72% in the past year alone. Basically, if you use an out-of-network ATM, consider yourself lucky if you get away with fees under $4.00.
The most common overdraft fee that a financial institution charges is $35. The number of banks and credit unions that increased their fees outnumbered those that lowered them by 7 to 1.
There is some good news, mostly surrounding fees charged for maintaining your checking accounts.
99% of interest-free checking accounts give you a path to use the account fee-free

38% of interest-free checking accounts are free without any hoops to jump through
61% waive the monthly fee if you meet a requirement, usually by setting up Direct Deposit
If you pay fees on an interest-free checking account, it's $12, on average

If you have an interest-earning checking account, the average earning is 0.06%

Only 5% of these accounts are fee-free without any requirements
77% of the accounts with fees allow you to waive the fees by meeting a minimum balance requirement; but the most common threshold is $10,000
15% of allow you to waive fees by setting up Direct Deposit
In addition, only 2.5% of all checking account apply debit card fees if you use at PIN number at checkout. These fees range from 35 cents to $2.
What you can do
"Bank fees can eat up your funds and throw off your budget," explains April Lewis-Parks, Financial Education Director for Consolidated Credit. "They can also lead to overdrafts and insufficient fund penalties, piling on even more fees. It can become a vicious cycle if you live on a limited budget. So, it's up to you to know your accounts so you can minimize fees as much as possible."
Consolidated Credit offers the following tips to help you eliminate or at least minimize bank fees as much as possible:
Review checking account and savings account features. Your financial institution usually tells you what you need to do to eliminate monthly maintenance fees. Know these policies and stick to them as much as possible.
Look for fee-free accounts. If you struggle to meet the requirements to waive fees, you may have the wrong accounts. Shop around to find accounts that offer no minimum balance requirement – accounts that are designed for people living paycheck to paycheck.
Never get an account that charges you for using your debit card at checkout. There aren't many of these accounts left, so it's pretty easy to find ones that don't apply this charge.
Know your ATM network. Make sure you know where you can use an ATM without incurring fees and surcharges. Then plan ATM trips accordingly so you can withdraw cash without incurring charges.
Avoid ATMs with high surcharge fees. Withdrawing money at certain ATMs can be extremely costly. ATMs at hotels, concert venues and clubs are almost always higher. If you're going out, get cash around your neighborhood where it's in network to avoid these fees.
If you want an interest-earning account, make sure you can maintain the minimum balance requirement. The same is true for many savings accounts that earn better interest rates; these usually have stricter requirements, too. Higher yield accounts are good, but make sure you don't offset the earning with fees.
Additional resources to help you save
This booklet helps you learn about all of your available banking options; from checking and savings accounts, to money markets and CDs, and even loans. Learn what options will work best for you and your family.
| | |
| --- | --- |
| If money is so tight that bank fees routinely bust your budget, we can help. Talk to a certified credit counselor for a free debt and budget analysis. | Get Help Now |