65 is no longer the magic age for retirement.
Each week, Consolidated Credit searches for unreported financial research that can help you deal with your debt and budget. This week…
The interesting study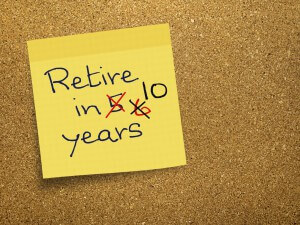 The Center for Secure Retirement surveyed 1000 Americans between the ages of 50 and 68 to find out how ready they are for retirement. Respondents had an annual household income between $25,000 and $100,000. Forty-five percent were already retired but of the 55 percent who were still in the workforce, majority plan to retire after 65. This is not because they want to keep working, but because they are concerned about not meeting their financial needs during retirement.
The big result
More than 80 percent of Boomers say they never got any education in retirement planning in their lives, so less than 20 percent expect to be able to retire at 65.
Additionally, 62 percent of middle-income Boomers doubt that they will have enough money to live comfortably in retirement.
Lower investable assets and the cost of health care are forcing many seniors to remain in the workforce beyond the age of 65.
The fascinating details
Just 38 percent of Boomers feel very or extremely confident about their retirement savings, while 25 percent are fairly certain they will outlive their savings.
Middle-income Boomers view half a million dollars in investable assets as ideal for a secure retirement.
Yet…
only one in 10 have investible assets of $500,000 or more
more than 50 percent have less than $100,000
34 percent of Boomers have less than $25,000 in investible assets
Keep in mind, Boomers are living longer in retirement than their parents did. Since 1950, the life-expectancy rate has increased by 37 percent which means seniors will need more money for healthcare. How much? Many project they will need $46,890 for one year of nursing home care but the report estimates they will need twice as much – $90,520.
What's more?
65 percent do not have a current healthcare power of attorney – a document that specifies wishes for health care in the event a person is unable to speak for themselves.
64 percent do not have an up-to-date living will – a written statement that details the type of care a person wants (or don't want) should they become incapacitated.
63 percent do not have a current last will and testament – a document that outlines what to do with their property upon death.
These findings are a little unsettling so it's not surprising that Boomers lack confidence in their readiness for retirement.
Interestingly though, Boomers who sought the help of a financial professional have more investible assets and thus feel more confident that they have saved enough to last throughout their retirement.
What you can do
While some Boomers project they would need at least $500,000 to retire comfortably, this may be unrealistic for many Americans. The reality still remains however that no matter how much you think you will need in retirement, it's important to start planning early.
Here's what you can do…
Let the planning for retirement begin. A solid retirement plan will help ease your financial fears in your golden years.
Seek the help of a financial adviser. Planning for retirement can be daunting but is necessary. It doesn't hurt to seek the advice and expertise of a financial planner to help put a financial plan for retirement in place.
Calculate how much money you will need for each year in retirement. Experts say high income earners would need at least 70 percent of their pre-retirement income. Sixty-five year-olds should plan for at least 20 years.
Take advantage of free financial planning classes. Some companies, in addition to offering 401 (k) plans, offer free money management seminars to help their employees better manage their money. Profit the opportunity of both your company's and the non-profits that offer free tools and tips for financial success.
Create a budget. Cut unnecessary spending and include saving for retirement if you haven't already.
Pay down credit card debt and your mortgage. Heading into retirement debt free will help ease the financial burden and worry so you can enjoy the last years of your life.
Start saving early. Also, be sure to take advantage of low risk investment opportunities to keep money coming in.
Try cutting healthcare costs now. While certain health conditions are inevitable, prevention is the best cure as the saying goes. Try to lower prescription drug costs by buying generic for instance. Be mindful that it is more expensive to go without health insurance. Seek instead a plan that's affordable.
Don't forget to prepare your wills while you can. This will save your heirs a ton of trouble in deciding what to do with your prized possessions as well as your wishes for health care in the event that you're unable to speak for yourself.
Consolidated Credit's Debt Learning Center has unlimited free resources on preparing for retirement and managing your finances. If you prefer to speak with one of their certified financial professionals, dial 1-888-294-3130. Or to find out how much debt you're in, request a free Debt and Budget Analysis online.