Can Your Savings Last A Month?
Nearly half of Americans couldn't even cover one month without a paycheck.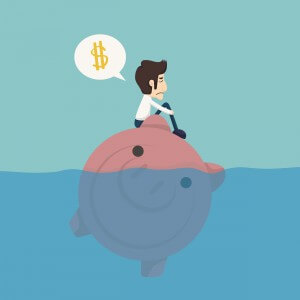 Americans are encouraged to save at least 10 percent of their income. Some financial professionals say have at least $1,000 in reserves, others say have at least 6 months' worth of expenses to cover an unexpected event like a job loss, medical emergency or disability.
But Northwestern Mutual's 2015 Planning & Progress Studyfound Americans for whatever reasons are not anywhere close to these targeted goals. In fact, nearly half would find themselves in financial trouble in just one month or less if they were to become disabled.
The study conducted to commemorate Disability Insurance Awareness Month in May, says Americans number one financial fear, by far, is "an unplanned financial emergency" followed by unexpected medical expenses. Americans are also concerned about not having sufficient savings to retire comfortably.
Digging deeper into the study:
58 percent of Americans believe they need to improve their financial planning

21 percent are "not at all confident" they'll be able to reach their financial goals; yet 34 percent haven't taken any steps to improve to plan for the future 

67 percent of adults think a financial crisis like what happened in 2008 is looming or will repeat itself – yet only 38 percent are confident their financial plans are ready for it; one in four (23 percent) do not believe their plans can

weather economic ups and downs.

Interestingly, two thirds (67 percent) of respondents consider themselves savers, yet over half (54 percent) say they have equal or more debt than savings.

Despite serious concerns about retirement, 2 in 5 Americans (43 percent) have not spoken to anyone about retirement planning.
You'd think these concerns are reason enough to prompt Americans to take steps to improve their financial plans or send folks on the cusp of retirement into double time, but they are not. What would?  A "cash windfall," according to the study.
Yet again the misconception that we only need to plan for large sums of money comes to the fore. It also highlights that while Americans know what their financial preparedness shortcomings are, many are doing little to protect or grow their assets in order to improve their financial outlook. 
"Planning for life events, planning out spending, planning for emergencies, disabilities are what will help Americans get over these financial fears," Consolidated Credit's Education and Public Relations Director April Lewis-Parks says. "An emergency is not something we schedule or add to our calendar but unfortunately, they happen whether or not we're financially prepared. 
"Disabilities don't only occur to accident victims. The majority of people on disability are that way because of illness. Crafting out a plan be it for savings, a spending plan, retirement, emergency plan while you're still healthy is important in relieving these fears. It matters not whether you have little or large sums of money you still have to plan out how you will spend it effectively."
Americans savings couldn't last more than a month, and more than half say they need to improve on their financial planning. At the same time, many believe another recession will hit, concerned they still have more debt than savings, yet majority are taking no steps to improve or build a rainy day fund. Why?
"Unfortunately, people tend to underestimate their risk of disability as well its potential to wreak havoc on both physical and financial health,"  Steve Sperka, vice president, disability insurance for Northwestern Mutual says. "May is Disability Insurance Awareness Month and a good opportunity for Americans to examine their financial plans to assess if they are adequately prepared to manage the financial implications of short or long term disability."
Sperka advises Americans who do not have access to disability insurance through their employer to consult with a professional to find out what their options are. If your employer offer group disability coverage, he suggests adding an individual supplemental policy to minimize the potential for financial disruption.
If you need help coping with life events, help developing a budget, help mapping out a spending plan or getting out of debt, dial 1-888-294-3130. Or request help online now for free.