Choosing Between Health and Financial Security
A new study says that a majority of Americans are afraid they will have to choose between being healthy or wealthy.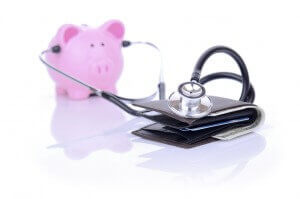 Being financially healthy shouldn't come at the cost of your physical health, but that seems to be the choice many consumers feel like they have to make.
During benefits enrollment season, health care costs are on the minds of many Americans. If you have an email about open season from HR sitting in your inbox right now but don't know how to make sense of it, don't be alarmed — most Americans just "look at that open enrollment e-mail and essentially take a wild guess at what plan works best for them," CNN says.
Not choosing a physically and financially optimal health care plan can have serious effects down the road
Here are some things to keep in mind while looking for health insurance:
Set realistic expectations. Don't just choose the most expensive plan because you assume it will cover everything. Take a hard look at your current deductible, your out-of-pocket costs, and the premium you paid for last year. Then assess your medical situation. Did you have to go to the dentist often? Do you need a lot of prescriptions? These questions can help answer what kind of plan you should sign up for.
Also, be aware that the Affordable Care Act now covers preventative health services, like immunizations, blood pressure tests, mental health screenings, and diet counseling.
Be aware that a lower premium does not always equal lower overall health care costs. Again, this requires a look at your medical history. If you didn't go to the doctor very often last year, you may want to choose a plan with a lower premium. Yes, the deductible will be higher, but even going to the physician once or twice more, it will probably still be cheaper.
Open a health savings account (HSA) to help offset out-of-pocket costs. If you are generally healthy and are offered a health savings account (HSA), consider taking advantage of it. The HSA lets you stuff your account with pre-tax earnings, and you can use it for current health care expenses not covered by your insurance. And if you don't use it all this year, no worries — the funds roll over from one year to the next.