Creeping Holiday Shopping Seasons
Holiday shopping seasons are almost as long these days as the presidential election season.
Each week, Consolidated Credit searches for financial research that can help you deal with your debt and budget. This week…
The interesting study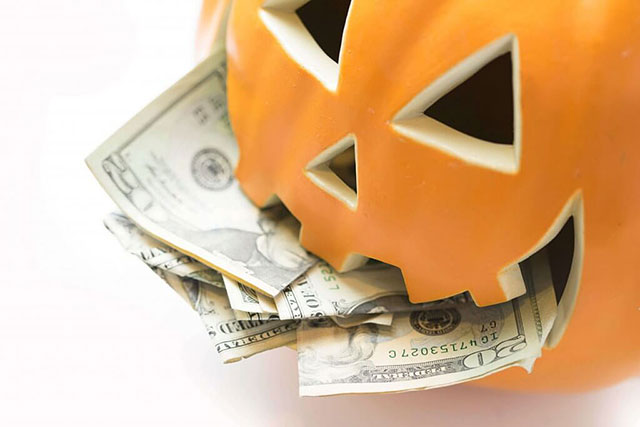 Each year the National Retail Federation puts out a Halloween Spending Expectations Survey to see how much Americans plan to spend, how they plan to shop and how shopping trends may have changed since last year. This year's survey hits an all-time high of $8.4 billion in total spending.
The big result
While the headline focuses on record total consumer spending, for this article we're instead focusing on when people plan to start shopping for Halloween. According to the survey results, only about one in five readers of this article haven't started shopping yet. Most people started much earlier:
4% started shopping in the past two weeks, after the start of October
29% started in September
5% started during the summer or earlier than that!
The fascinating details
It's not just Halloween shoppers who are getting the jump early this year. Each year, holiday shopping seasons from Halloween to Valentine's seem to start earlier and earlier every year.
In fact, Time Money reports half of American parents have already started shopping for the winter holidays
usatoday.com even finds that 1 million winter holiday shoppers are already done
Of course that same story from CreditCards.com also finds that 74% of survey takers say, "It's annoying that the holiday shopping season has gotten earlier."
What you can do
"The goal of starting to shop early for any holiday is to save money," says April Lewis-Parks, Education Director for Consolidated Credit, "but retailers are not putting out promotions earlier and earlier every year to help you save. They want longer shopping seasons because in many cases it prompts people to spend more which helps them increase revenue. Early-season shoppers need to be careful that they're shopping early for the right reasons and don't fall into retail traps that lead to overspending."
Consolidated Credit actually encourages people to shop as early as possible. In fact, shopping year-round for the winter holidays can be an effective way of avoiding end-of-year debt. You buy one big ticket item each month, so you're not overburdening your budget in the last few months of the year.
"The trouble with retailers moving up holiday shopping seasons is that it almost defeats the purpose of being an early shopper," Lewis-Parks explains. "Early shopping is effective because you're buying things in the off-season. The earlier the season starts, the harder that is to do."
Lewis-Parks and the budgeting experts at Consolidated Credit offer the following advice:
Shop around sale prices, not shopping seasons.

Decorations always have the best markdowns right after a holiday happens
Winter items are best bought in spring, and summer items in fall
For big items like electronics and appliances, watch for sales throughout the year and get in when the getting is good
Fad items tend to be marked up, instead of down during holiday shopping seasons – even during sales like Black Friday
Unless there's a specific sale that looks like a good deal, things like Halloween candy are almost always going to have the best prices right before Halloween since stores are aiming to clear their shelves

Focus on your list and how you need to spread out the total cost.

Your goal should always be to have a cash-only shopping season
Mapping out costs early lets you evaluate upcoming spending, even if you don't start to shop early
The longer you give yourself before a holiday, the more likely you are to find the best discounts and sales
Spreading out the cost of larger items allows you to cover them in cash, instead of piling them on credit
For more information on how to save money when you shop, use Consolidated Credit's Smart Spending Tips.