Debt Collectors Face New Rules in New York
Can the new regulations really help prevent fraudulent collection practices in court?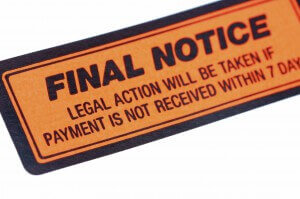 If you're facing credit card debt collections in New York, new rules announced by the state court system last week may help you avoid facing a default judgment to pay up in court. Specifically if the collector can't meet the new standards of proof that the debt is actually owed, they may not be able to pursue repayment through the courts.
The new rules apply only to credit card collections, and not collection on other types of debt, such as loans. There is also a fairly complicated distinction that collections initiated by a debt buyer would only be subject to the new rules if the debt was purchased from the original creditor after October first. Although thankfully after July 1, 2015 the new rules will apply to collections on all credit card collections, regardless of whether it goes through a debt buyer or not.
So what do these new rules mean for New York residents who are facing collections on credit card debt?
Basically, it means that the collector will face a much higher burden of proof that you actually owe the debt if they want to seek a default judgment in court:
They must submit detailed proof of all default judgment applications.
The application must contain the original credit agreement or similar documentation of your obligation, such as a charge-off statement or last activity statement.
It must also contain a detailed account of the debt's chain of ownership from the original creditor to the collections agency, and on down through any debt buyers that purchased and resold the debt.
Affirmation from the creditor's attorney that the debt is within the statute of limitations – i.e. that the limited window time to collect hasn't expired.
A detailed list that verifies all attempts to collect from the borrower.
If the collector or debt buyer can't meet those standards, then they won't be able to pursue a default judgment in the New York courts.
How the new rules help consumers like you
These new standards may help you avoid facing collections on debts that can't be proven. Often, just like what has been seen in the subprime mortgage lending crisis, past-due credit card debt that goes into collections get bought and sold multiple times. This creates confusion and even fraudulent collections on debt that isn't actually owed.
Debt buyers work like this:
The original creditor passes your account to a collector after a certain period of time (usually after six consecutive months of nonpayment).
The collector will attempt to collect for a certain period of time; they get paid a percentage of what's collected from you if they can get payment.
After a period of time, that collector may give up and sell your debts to a debt buyer.
Typically, debt buyers don't buy individual debts – they buy a large number of accounts altogether.
They attempt to collect, but if they can't the debt may be sold in another bundle to someone else.
As a result, in some cases, debt buyers simply don't have the information they need to know what's actually owed. This can lead to collections on debts that aren't actually yours, collections on debts you've already paid, and collections on debt that's past the statute of limitations.
"These new regulations should help New York residents to avoid the stress and expense that can come with unverifiable collections cases," says Gary Herman, President of Consolidated Credit. "They build on the rules establish by the Fair Debt Collections Practices Act to help protect consumers facing collections on past-due credit card debt."
For more information on your rights as a credit user, visit Consolidated Credit's guide to Consumer Credit Rights.