Is it Time to Ditch Your Landlord to Save Big?
Data shows mortgages are half the price of rent in most major U.S. cities.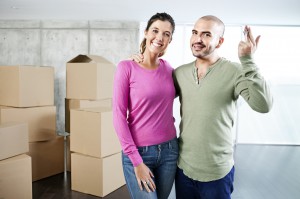 The recession cost many Americans their homes which led to an increased demand for rent. As a result, rent has become more expensive, putting it out of reach for many young and middle class Americans. On the other hand, as the housing market recovers, the prospect of owning a home is becoming increasingly attainable even for millennials who've shied away from ownership previously.
Today, renters give 30 percent of their salary to their landlords while homeowners spend 15 percent of their income on mortgage payments, according to a report by Zillow a real estate marketplace.
The average cost of rent in the third quarter of 2014 is twice the cost of a mortgage except outside of the most expensive cities. In places like Miami, New York, Los Angeles, San Francisco and San Diego rent still consumes over 40 percent of a tenant's salary.
Of course, mortgage terms are usually relative to the size of a down payment – the more money a buyer puts down, the lower the mortgage payments will be. So as rent increases and incomes remain flat, generating enough money for the down payment can be challenging for millennials on a marginal income. According to the report, even younger buyers who earn less money and make a smaller down payment on a home should expect to spend 17.4 percent of their income on mortgage payments. An amount significantly cheaper than the 29.9 percent they spend on rent.
This is good news for the housing market, millennials and first-time buyers looking to move out of a rental and into a house.
"Despite rising home values, homeownership remains very accessible for buyers that can scrape together a down payment – even if that down payment is relatively modest – find a home to buy and secure financing," Zillow's Chief Economist Dr. Stan Humphries says. "Buying conditions are getting better every day, and in time the allure of fixed housing payments and building wealth through home equity will draw more buyers out of rentals and into homeownership."
Zillow says two factors contribute to the affordability of homes these days – low mortgage interest rates and the fact that the younger generation is shopping for cheaper homes that closely match what they can afford. There's even more good news for homebuyers and sellers. Quicken Loans, a mortgage lender, cites that homeowners and appraisers are increasingly agreeing on the value they place on a home or property. The ability to agree on a price for a home is essential in speeding up the home buying and mortgage approval processes.
The dream of homeownership looks promising for millennials. Experts predict more 23-34 year olds will enter the housing market by the end of 2015 forcing Gen X out of the biggest group of homebuyers. First, renters will have to overcome certain hurdles and barriers.
When the price of rent increases, the alternative for tenants whose income remains the same is to stay put, since majority of their monthly paycheck is going to their landlord instead of into their savings.
So is it time for you to buy?
Maria Gaitan, Housing and Business Development Manager at Consolidated Credit, says although the low cost of a mortgage will aid the housing market recovery, homebuyers should not enter the market blindly.
"While this is great news for the continuing recovery of the housing market, buying a home is a very costly investment that needs sound financial planning," Gaitan says. "Before anyone jumps into the market, it is important they get educated on the home buying process so history does not repeat itself. To become sustainable homeowners, consumers must know the ins-and-outs of homeownership and must create a sound budget before they take on a mortgage."
It is important to note that there is more to homeownership than just meeting the down payment and closing costs. Homebuyers are strongly advised to begin the process by attending a first time homebuyer education class in order to become successful homeowners.
Buying a house is a significant financial commitment that if managed properly can amount to thousands of dollars in savings in the long run. With sound financial planning and budgeting, the dream of owning a home can come true. Consolidated Credit's HUD approved housing department offer numerous resources and classes to help consumers buy and keep their homes – from first time homebuyer counseling to foreclosure prevention, mortgage payment assistance and reverse mortgages for seniors 62 years and older who are struggling to pay their homes. Simply dial 1-800-435-2261 to speak with a HUD certified housing counselor.