Hands Up if You Know Your Mortgage Rate
One third of homeowners don't know, and it could be costing them big.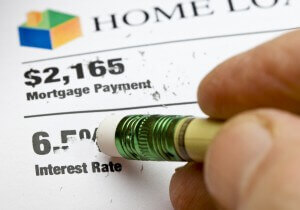 A new survey from Bankrate finds about one third of consumer don't honestly know the interest rate attached to their biggest loan and most important asset. That ignorance can keep them from taking advantage of cost saving refinancing options.
Conventional wisdom says ignorance is bliss but not knowing doesn't always work in your favor – especially when it comes to matters that cost you money.
Right up there with memorizing your Social Security number or bank identification pin, should be knowing your mortgage interest rate. Arming yourself with this knowledge can help you ascertain whether it makes sense to refinance your mortgage for a better rate or not.
The home buying process can be arduous and exhausting which could be one reason homebuyers end up being oblivious to their interest rates – by the time the mortgage is finalized, buyers are focused on completing the journey and finally settling in. Still, having the keys in hand and neglecting key elements in your loan like your interest rate is a costly oversight that might leave you with a bigger mortgage to foot each month.
Data from the surveys shows rates are at historic lows and now could be a good time for homeowners with higher interest rates to refinance.
However, how can you take advantage if you don't know your rates?
In 2008 interest rates were above six percent and in 2000 it was close to eight percent.
Today a fixed 30 year mortgage is 3.8 percent but analysts forecast rates will rise in the coming months.  Since interest rates fluctuate, it is important that mortgage owners keep an eye on the housing market and know their rate so they can take advantage of good market conditions as they arise.
While in today's market the end result of a mortgage is often more affordable monthly payments versus renting, this still disregards the most important cost dependent factor – the interest rates. For prospective homebuyers it should be the interest rate that eventually determines whether it's a good time to enter the market or not. If rates increase by at least 5 percent, one in five Americans will choose hunting for apartments, over hunting for lower interest rates.
How much can you save?
As you scurry to find your paperwork to compare your existing rate with the current low rates available, you might also want to consider the following scenarios. Doing so will provide further proof that knowing your interest rate in order to refinance at the right time can be a good option for your finances.
Let's say your mortgage is as follows:
Total loan amount: $150,000
Mortgage term: 30 years
Interest rate: Fixed at 8%
Entering this information in Consolidated Credit's easy-to-use mortgage payment calculator yields a monthly mortgage payment of $1,100.65.
Now let's say you refinance at today's rate of 3.8 percent, your new mortgage payment would be $698.94. That's a total of $401.71 in savings each month on your mortgage – a whopping $4820.52 every year year. Over the life of the loan you end up saving $144,615.60.
Now consider a much lower rate difference of 1 percent for the same loan amount – even with just this 1 percent difference, the savings would still be significant. Say your current interest rate is 7 percent and even with today's low rates your credit score is only good enough to lower the rate to 6 percent. This may seem insignificant, but the benefit over time is still significant.
Let's calculate:
At 7 percent on a $150,000 loan, the monthly payment is $997.95.
Refinancing at 6 percent it will drop to $899.33.
Your total savings each month would be $98.62 – that's $1183.44 per year.
You save $35,503.20 over the life of your 30-year loan.
"Having knowledge of your mortgage interest rate is paramount in saving on monthly mortgage payments and even keeping your home," Maria Gaitan Housing and Business Development Manager for Consolidated Credit says. "This is especially significant for families who are struggling to keep a roof over their head. However, those who struggle the most are often least likely to pay attention to or take advantage of refinancing options. These homeowners are so focused on making their payments each month, they don't consider all of the available options that could help decrease that financial burden."
Gaitan says in addition to knowing and comparing your interest rate to the current interest rate, the length of time you plan to stay in your home is also important, since you often have to pay closing costs again if you refinance. The longer you stay the more likely you will be to recover the refinancing costs. Same goes with your career. If you plan on staying put for a long time then it makes sense to dip into your savings to pay the refinancing cost and reap the savings later. Then there's the credit score factor. If yours is less than stellar, you may not qualify for lower interest rates.
It is important therefore to do your due diligence. Discuss every option you have with your lender and how you can get the best rates and lowest fees. You may also seek help from Consolidated Credit's HUD approved Housing Department. To find out whether refinancing is right for you, dial 1-800-435-2261 to speak with a certified housing counselorfor free.