Does It Cost More to Buy Less Home?
A new study by Zillow finds rates and fees are lower at high price ranges.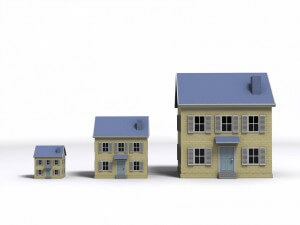 Common sense would tell you that when you buy a smaller home it should be more affordable and a better deal than a bigger home. However, a new data study by the real estate experts a Zillow recently shows buyers at lower price points may not be getting quite the deal that they thought they were. In fact, statistics show the lower the amount on your mortgage, the more you can expect to pay in interest rates and fees.
Here's what they found:
In the first quarter of 2015, the average interest rate on a mortgage for $100,000 was 3.95% and the APR was 4.06%
However, the average interest rate for a home costing $400,000 was 3.64% with a APR of 3.7%
The analysts explain that the bigger the difference between the interest and the APR, the more a homebuyer pays per dollar borrowed. So while the high-priced homeowner pays more overall, they actually pay less dollar for dollar.
The catch 22 of a low down payment
While it may seem like something illegal (or at least unfair) is happening in mortgage lending, it may not really be the case. Fair housing law ensures that homebuyers are all judged and extended financing using the same standards. Things like a frugal budget or a low loan amount shouldn't have any impact on the financing you're offered.
In other words, all things being equal if a person applies for a mortgage the terms they get offered should be the same regardless of whether they want a $100,000 home or a $400,000 home. And in fact, if the same personal applied for both loans on the same day with the same percentage down payment, they would receive the same interest rate and terms on both loans.
On the other hand, that's not really what this data is saying. The data that Zillow is assessing doesn't adjust for the fact that buyers of smaller mortgages are often less financially stable than those buying more expensive homes. Basically, for all intents and purposes, people buying $100,000 homes tend to be starting out as homeowners while those buying $400,000 homes are usually more established.
So it's rarer for a $400,000 buyer to put less than 20 percent down to get a traditional fixed-rate mortgage. Meanwhile one in five buyers of $100,000 don't make their full 20 percent down payment. As a result, these buyers have additional charges, such as mortgage insurance.
This often becomes the challenge with lower down payments. Being able to put as little as 3 percent down for an FHA-insured home is an immense benefit to first-time homebuyers trying to make the jump from renting to owning. But that opportunity has a cost – and this cost is what the Zillow data shows.
Affordability is the most important thing
While the kneejerk reaction to data like this would be that you should delay the purchase of any home until you have the full 20 percent down payment needed for a traditional fixed-rate mortgage. However, given current market conditions where it costs more per month in most key markets to rent rather than own a home, it's in your best interest to make the jump if you can.
So while your cost per dollar may be higher because you have to use resources like FHA loans it may still be more affordable than renting on a comparable property. The key point is to ensure whatever home you get will work for your monthly budget. If you're unsure, talk to a HUD-approved housing counselor. You can get a professional budget evaluation to see if you're really ready to take the plunge into homeownership or if you're better off waiting until your finances are in a better place. Call 1-800-435-2261 to speak with a housing counselor for free.