Does Your Broker have Your Best Interest at Heart?
Think brokers always sells investment plans based on what's best? Think again.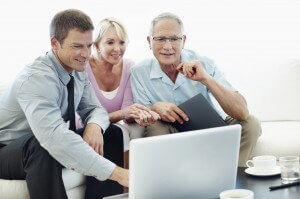 Research shows Brokers are selling Americans who want to save for retirement a little short. They're promoting deceptive retirement plans that yield a larger return beneficial to broker, not the customer. What's worse, it's not even illegal – at least not yet. However, a plan to mandate the deceptive practice is underway and the federal government is asking for your input.
Americans are keen to focus on saving for retirement and the common perception is that one of the most effective ways to do so is to seek the help of a financial advisor. Yet, the reports on Boomers' readiness for retirement are less than encouraging. If Boomers weren't already anxious enough about saving adequately, a press release by the AARP is enough to fuel more anxiety and even make you downright mad. The report indicates Americans currently saving for retirement lose up to 17 billion dollars each year due to bad investment advice.
Armed with that kind of data, the U.S. Department of Labor (DOL) wants to update requirements for those who give financial advice to individual retirement plan savers. President Barack Obama, AARP CEO Jo Ann Jenkins, and members of the Save Our Retirement coalition announced that a major step has been taken on a proposed rule by the U.S. Department of Labor (DOL) and have joined the DOL's effort to update this rule.
"Right now, there are no uniform rules of the road that require retirement advisers to act in the best interests of their clients, and that's hurting millions of working and middle class families," President Obama said while addressing the AARP, the retiree advocacy group. "There are a lot of very fine financial advisers out there, but there are also financial advisers who receive backdoor payments or hidden fees for steering people into bad retirement investments that have high fees and low returns."
This isn't the first time the AARP has proposed the bill. The plea to mandate brokers started five years ago when The Department of Labor proposed the rule to ensure that Americans of all ages get the best financial advice when planning for their retirement. However, since then, it has been shot down – a block attributed to powerful interests on Wall Street.
Even today, brokers are not required to disclose how much of a return they get for every person who enrolls in one of their suggested plans and they are intent on keeping it that way – selling retirement investments even if they have hefty costs, poor returns or high risks because it's more profitable. In many ways, it's in their best interest to keep consumers in the dark. The industry does not want the DOL to issue a draft rule for public comment and are spending sizeable sums of money lobbying against a new rule on Capitol Hill, at the DOL, and in the media according to Save Our Retirement on its website.
"For example, brokerage firms are claiming they'll stop offering investment advice if they have to act solely in their clients' best interest, and that small savers will have no one else to turn to for guidance. And they argue that other rules and regulations already protect workers and retirees from abuse."
Save Our retirement says none of these claims hold up and translates into, "If we can't take advantage of our clients, then we won't do business with them."
So what do you do in the meantime? You can support the DOL's efforts to protect your retirement saving and investments by signing a petition. If implemented, the rule will ensure that all financial professionals – Wall Street banks, brokers, mutual funds, and insurance agents – who offer retirement advice to put your interest ahead of their own. These include keeping your costs low, recommending sound investments, and protecting your retirement nest egg from unnecessary risks.
Currently Save Our Retirement says the reality is:
Many advisers are providing investment advice that pays them handsomely but doesn't serve their clients' best interest;
Those conflicts of interest are taking a huge toll on the retirement savings of millions of workers and retirees; and
An updated rule from the DOL can solve the problem
The President of Consolidated Credit Gary Herman says for years we have preached that Americans should start saving for retirement early and should seek the help of financial advisors to get the best possible options that suit their income and budget. This is truly disconcerting and makes those companies who endeavor to provide the best for its clients suspect.
"The onus now lies on consumers to go out there sign these petitions and make their voices heard. This should also serve as an eye-opener where consumers ask the questions they need to make sure that they are privy to and understand all aspects of their investment and savings accounts to make sure that they're getting the returns they deserve," Herman says.
Protecting your retirement and investment interests
When seeking the counsel of financial advisors, be sure ask the following questions. The answers you get to questions like these can help you decide whether a broker is likely to give you advice that's more beneficial to you.
As my broker, are you legally obligated to act as a "fiduciary?"
Fiduciary duty is a legal duty to act solely in another party's interests. If they say no, ask if they're willing to sign a contract stating that they will abide by the fiduciary duty.
Save our retirement campaign says, "If they're not willing to sign a contract to that effect, chances are the recommendations or the service they sell you will be in their best interest not yours. Don't feel bad about taking your business elsewhere."
How are you compensated? Is it through hourly or account-based fees, or, is it based on commissions for each product they sell you?
"If your adviser recommends mutual funds or other investments that charge a sales load or 12b-1 fees (often referred to as A, B or C shares), you are dealing with a salesperson not an adviser. Most salespeople are not legally required to act in your best interests. And, if your "adviser" is paid commissions to sell certain products, they may steer you into buying the products that make them the most money, even if those products aren't the best choice for you."
What exactly are you offering to do?
Some services are simply there for the broker's profit margin. For instance, if an adviser recommends a variable or equity-indexed annuity for your 401(k) account or IRA, be on your guard.
"Recommending variable or equity-indexed annuities in tax advantaged retirement accounts is one of the most common abuses engaged in by salespeople who don't have to put your interests first. That's because your 401(k) or IRA already offers the tax benefits that are the chief selling point for these annuities when they are sold outside tax-advantaged retirement accounts. What's worse, variable and equity-indexed annuities typically carry high fees that will eat into your retirement savings over the long term."
Bonus Tip: Carefully read any account documents they want you to sign (including internet acceptances).
"Look for loopholes in the agreement, including technical language that reads something like this: "Client understands that any advice received will not be the primary basis for any investment decisions made." That's a clear giveaway that your adviser is trying to get around the fiduciary duty."
Be on your guard, save for your golden years but make sure that the information or service you receive is truly golden. Consolidated Credit has credit counselors standing by to take your call if you need help or have debt that's standing in the way of your retirement plans. Call us today at 1-888-294-3130 or complete our online application to request help now.