Study finds students dropping out because they can't afford basic necessities.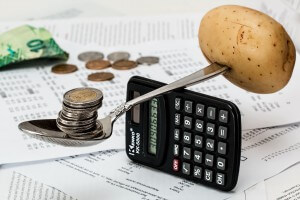 A college degree is that key tool we're all told that we need in order to earn more and be more successful over our lifetimes. A degree is supposed to open doors to higher income opportunities and greater success. However, a new study of Wisconsin college students by the Wisconsin HOPE Lab finds many college students falling short of earning their degree because the path forward is cut short by challenges with money.
Essentially, students are forced to go without food to afford their education, or conversely they drop out because they can't even afford to eat while they pursue their degree. Wisconsin HOPE Lab surveyed 3,000 students in the state who receive Pell Grants, which is a grant program intended to help students from the lowest income brackets throughout the country. Two thirds of Pell Grant recipients come from families who live below 150 percent of the federal poverty line. So, for instance, a student who comes from a household of four people with an income level of less than $20,000 per year annually would be a candidate for a Pell Grant.
Here's what the study finds:
71% of students changed their eating habits due to lack of funds
27% say they don't have enough money to buy food, so they eat less and cut meals
7% of 2-year college attendees and 5% of 4-year attendees say they've gone for an entire day without eating
This is a leading reason why so few students from low-income families are able to get ahead. Only 14% of students from the lowest 20% of income distribution complete a bachelor's degree or higher within eight years of high school graduation. Students of middle-income earning families graduate at a rate of 29% while high income earning households in the top 20% graduate at a rate of 60%.
Affording college, but not the cafeteria
The Wisconsin HOPE Lab believes much of the challenge lies with government regulations that leave Pell Grant recipients vulnerable to budgeting challenges that cover basic necessities. For example, these students are often provided with breakfast and lunch during their K-12 schooling through the Supplemental Nutrition Assistance Program (SNAP). However, that support either disappears or becomes harder to access once those students move on to higher education.
Extending SNAP to public colleges and universities can go a long way in helping these students get by without having to sacrifice eating for their education. However, in the meantime, students attending college now are forced to look for alternatives, such as relying more heavily on student loans to cover basic necessities during school.
"Students of low and middle-income often have to make the tough choice of whether continuing education is worth the debt that you'll take on to fund your degree," agrees April Lewis-Parks, financial education director of Consolidated Credit. "This means career paths must be thoroughly vetted ahead of college attendance to ensure income, salary ranges and job availability will allow a graduate to pay off the often sizable amount of debt they may have acquired while pursuing a two or four-year degree."
For more information about how to afford college, visit Consolidated Credit's Affording College section of our website. We also have information on Student Loan Consolidation if you've already graduated and need help paying off your loans.