Facing Challenges with Medical Debt
Studies find one in five will be contacted by a collection agency this year.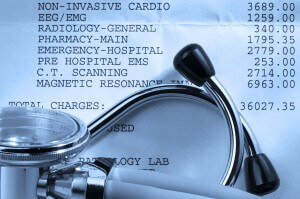 When it comes to debt collections, medical debt may be a bigger problem than credit cards or even student loans. That's according to a new study by NerdWallet Health that found one in five adults in the U.S. will be contacted by a collection agency regarding medical debt this year.
This only adds to NerdWallet's findings from the previous year which showed medical debt was the leading cause of personal bankruptcy in 2013. This year's survey also found that 63 percent of adults received medical bills that cost more than expected. When expenses are higher than a consumer anticipates, it can easily start them down a slippery slope into serious debt.
"Medical debt can be tough to handle because it is usually impossible to plan for and is quite expensive," says April Lewis-Parks of Consolidated Credit, "and once it's been incurred, finding ways for debt relief can present challenges."
Facing challenges of medical debt head-on
Part of the problem with medical debt is confusion that arises during the billing process.
57% of survey respondents reported receiving a bill that was confusing
NerdWallet also found 49% of Medicare medical claims contain billing errors
Statistics also show the cost of procedure can vary widely – with some inpatient procedures carrying charging 50 times higher at some hospitals versus others.
Costs also vary widely by state, so even where you live can automatically mean higher costs for you.
People also face challenges with insurance coverage gaps – where you think you're covered for something, when in fact it ends up being an out-of-pocket expense. Unfortunately, these expenses only seem to be getting bigger. As the NerdWallet report says, "Out-of-pocket spending is expected to accelerate to a 5.5% annual growth rate by 2023."
In addition, once the debt has been incurred, it can be tricky to find relief options if you can't afford to pay the bill back outright. While you may be able to consolidate medical debt with other unsecured debt on a debt management program, it is often highly dependent on your financial situation and the nature of each debt that you have. In other cases, it may be more worthwhile to negotiate directly with the hospital or medical provider about the debt.
If you have questions about medical debt and want to know more about your options, call Consolidated Credit today at 1-888-294-3130 to speak with a certified credit counselor or request help online by completing our form for a Free Debt Analysis.