Fewer First-Time Homebuyers than Ever
REALTORS® say the agency that's supposed to help them isn't.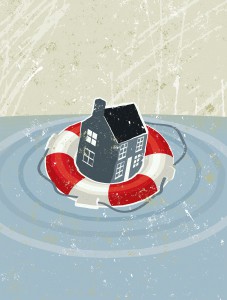 The Federal Housing Administration (FHA) is a government agency that's mission is to help consumers achieve the goal of homeownership – particularly, first-time homebuyers. However, since 2010, the FHA has "more than doubled its mortgage insurance fees." This makes it harder for first-time homebuyers to afford homes.
Mortgage insurance is an added cost that gets applied to monthly mortgage payments when a buyer puts down less than 20 percent of the purchase price as a down payment. If you make a low down payment, you have to pay mortgage insurance until you've paid off 20 percent of the value of the home.
Monthly premiums for FHA-insured mortgages jumped from 0.55 percent of the total loan in 2010 to 1.35 percent in 2014, according to a National Association for REALTORS® report. That's a 145-percent increase. FHA upfront fees have also increased from 1 percent to 1.75 percent.
As a result, first-time home buyers now make up only 28 percent of total home sales. That falls short of the "long-term benchmark of 40 percent."
Richard A. Smith, CEO and president of Realogy Holdings Corp. noted in American Banker that although the mortgage insurance is necessary to pay back a lender if a buyer defaults, the fees are still at the peak levels established to counterbalance the rash of defaults seen during the financial crisis.
Smith believes, "The FHA must adjust its policies to reflect today's realities — not the cash-strapped days of the financial crisis. Last year alone, the agency's mortgage insurance fund increased in value by $15 billion. The FHA can afford to reduce monthly premiums to pre-crisis levels."
Counseling for first-time home buyers
To help combat the problems first-time homebuyers face, the FHA recently introduced "Homeowners Armed with Knowledge" (HAWK) – a counseling program they can take before they buy a home.
Using any HUD-approved counseling program, first-time homebuyers can take advantage of reduced mortgage insurance premiums (MIP). Gary Herman, President of Consolidated Credit explains, "Consolidated Credit offers pre-purchase homebuyer counseling and education. We are approved by the U.S. Department of Housing and Urban Development (HUD). Buyers can sign up for counseling free of charge thanks to federal grants, and in exchange for a small time commitment, they can enjoy significant monthly savings on their housing costs."
For more information about Consolidated Credit's HUD-approved housing programs, please call us at 1-888-294-3130. Even if you aren't a first-time homebuyer, we may be able to help you overcome challenges to reach your dream of owning a home.