Filing Complaints through the CFPB
The Consumer Financial Protection Bureau shows the progress they've made.
Each week, Consolidated Credit searches for financial research that can help you deal with your debt and budget. This week…
The interesting study
Following the Great Recession, the federal government opened the doors on the Consumer Financial Protection Bureau (CFPB) in July, 2011. Starting 2012, they release an annual report each year showing the complaint data and results of the previous calendar year. The report for 2014 was released publicly at the end of March.
The big result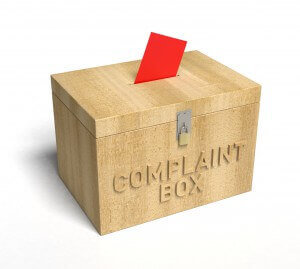 The CFPB received 250,700 consumer complaints. Out of that total…
35% related to debt collection complaints
20% complaints revolved around mortgages
18% of submitted complaints dealt with credit reports
8% with a bank account or banking service
7% were credit card complaints
4% were for consumer loans
3% for student loans
2% for payday loans
Other complaints that each made up less than 1% of the total include complaints for money transfers, prepaid services, and miscellaneous financial service complaints.
The fascinating details
The majority of complaints (67%) were received directly through the CFPB's website, while 15% came from referrals and 9% came in over the phone; fax, email and postal service made up the other 9%.
Interestingly, while payday loans accounted for only a small fraction of the complaints received (2%), payday loans were a leading type of debt that led to the high number of debt collection complaints received:
14% of collection complaints were related to defaults on payday loans
14% were related to charged-off credit card accounts in collections
11% related to unpaid medical bills
Mortgages, auto loans and federal student loans each accounted for 2% of debt collection complaints received, while 1% came from private student loans
The rest of the complaints received related to other types of collections, such as utilities or unpaid bills, as well as 24% of collection complaints where the complaint filer didn't know what type of debt led to the collection account.
People had a wide range of reasons for complaining about debt collections:
37% regarded continued calls regarding a debt that wasn't actually owed by that consumer – whether they paid it off, discharged it during bankruptcy, or it wasn't theirs to begin with
20% regarded bad communication tactics, such as repeated calls, harassment and abuse
13% didn't receive full disclosure about the debt that was owed
12% received threats of illegal actions, such as jail time or illegal property seizure
10% made other false statements, such as impersonating a lawyer or government agency
7% were related to improper contact, such as contacting the consumer after legal representation or sharing information about the debt owed with a third party
What you can do
What we gleaned from all of this data is how quickly a debt can go from being a stable part of your financial outlook to being a big problem if you get behind. The data shows that with debts such as credit cards and even payday loans, things are usually fine as long as you're in control of the debt and you can usually work with the creditor or lender effectively.
However, once a debt goes into collections things can go bad quickly. Not only do you have to deal with addressing the debt problem so you can regain control of your budget, you also have to deal with debt collectors where the overwhelming majority of CFPB complaints come from, which only creates more hassle.
If you have debts that are on the verge of collections, you need to take immediate action to avoid allowing your accounts to get sent to a third party that is less likely to work with you and follow acceptable business practices. Credit counseling can help you explore solutions and identify the best on for your situation.
Even if your debts have already been moved to charge-off status by the original creditor – and even those debts that have passed to a third party collection agency – may still be eligible for consolidation through a debt management program. Credit counseling can, in some cases, help with debts in collections. It just depends on your credit counseling team negotiating with each individual collector to get them to accept your enrollment in the program as a means to pay back the debt.
If you're struggling and need help, call us at 1-888-294-3130 or complete an online application to request a free evaluation with a certified credit counselor.