Good News If You Own a Modestly Priced Home
As new home sales fall, existing home sales rise – particularly for "modest homes."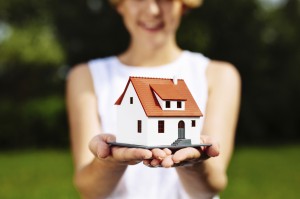 The final numbers for 2014 home sales are starting to come in, and according to three articles from Zillow, the people in the best position are homeowners with the most modestly-priced homes on the market. Essentially, if you own a home that's valued in the bottom one third of all homes, then the value of your home is actually increasing faster than everyone else's.
That's according to one report from Zillow, which found homes in the bottom one-third increased in value by 6.8 percent in 2014 – that's slightly above the 6.6 percent annual growth of all homes over that same twelve-month period. What's more, a second report confirms that existing home sales are gaining momentum in the market.
So if you own a modestly-priced home and you're looking to sell, then conditions may be right to do so right now. Buyers are plentiful, taking advantage of low interest rates still available, your home value is good and the market on homes like yours are active.
"You want to be as strategic as possible when it comes to timing the sale of your home," says Maria Gaitan, Housing and Business Development Manager at Consolidated Credit. "Selling at the right time helps you maximize the return on your investment, which can give you more resources for whatever comes next in your life."
Part of the reason, existing home sales are so active may have something to do with another Zillow report that shows new home sales are falling. In this report, the fall in new home sales is attributed to a rising vacancy rate and falling overall rate of homeownership. Essentially, homeowners are getting out and turning to rental properties instead of buying. Those who are buying are opting for existing homes rather than new developments.
While homeowners interested in selling this year should monitor the market carefully to put their homes up at the right time, homeowners who plan on staying put will gain a welcome increase in their home equity. This means less problems with negative equity and more stable net worth for the average American family.
On the other side of the market, homebuyers have some important decisions to make. With new home sales flat, you may be able to get a good deal, but high vacancy rates can be a problem – particularly if you have an HOA or live in a condo run my a management association. Your HOA fees may be higher and/or amenities may not be as well maintained with so many empty units around you.
In addition, homebuyers who opt for existing homes can have more confidence that the price of the home they purchase will rise, rather than fall right after the sale. As most homeowners learned from the recession, there's really not much that's worse for your financial outlook than negative equity on your greatest asset. It's a financial challenge that you're better off avoiding, if at all possible.