A Good Year for Your Career
Employment data paints an attractive picture for 2015.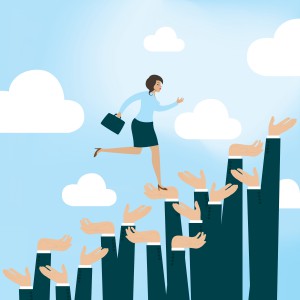 If you're in the market for a new job or a pay increase at your current job (and really, who isn't), then you may be in luck within the next twelve months.
The employment experts at CareerBuilder have released a report this year's employment forecast survey results and those results are extremely positive. About one in three U.S. employers plan to increase their full-time staff for 2015, mean there will be plenty of permanent positions available for job seekers over the next year.
Although 2014 saw increased growth in the job's market, 2015 is set to top it. The survey finds employer hiring will increase by 12 percent this year. That means the 2.65 million jobs created last year may be trumped by the numbers in 2015. As a result, another report by the staffing and HR firm Randstad finds employee confidence in the job market and the economy at large are at all-time highs.
And that's not the only good news. According to CareerBuilder:
Temporary and contract hiring will also be up this year by about 42%
In the small business world, 29% of owners plan on adding full-time employees
An impressive 45% of employers plan to raise their minimum wage. Over half plan to increase base wages by $2, while one third plan to go for more than $3.
Part-time employment will also increase by about 6% from last year.
Interestingly, 13% of employers are changing their work environment with features like open floor plans with no cubicles.
"Businesses are looking to expand in 2015 and that's good news for workers looking to advance their careers and earning potential," says Gary Herman, President of Consolidated Credit. "In fact, our company plans to increase our staff of credit counselors by at least half this year to help us serve our clients more effectively."
The CareerBuilder survey finds Customer Service positions like these are actually set to have the second fastest job market growth in 2015. Here's the Top 55 list of positions up for the most hiring this year:
Sales – 36%
Customer service – 33%
Information technology – 26%
Production – 26%
Administrative – 22%
Tips for 2015 job seekers
If you're thinking of finding new opportunities, you're not alone. The following tips can help you get the most out of your search:
Aim for higher income. With so many companies hiring, the market is perfect for workers to find opportunities that significantly increase their income. If you have a job but would move for a better opportunity, headhunters recommend focusing on opportunities that increase your income by about 15-20 percent; otherwise, you might as well stay put and work hard to earn a promotion.
Education and experience are even more critical. Across the board, employers want more experienced and better educated employees. Make sure your resume details all relevant experience you have for that position. Tailoring your resume based on the employer can help you stand out and hit those buzzwords that each employer is really looking for in their new hires.
Don't forget about benefits. Benefits packages can really make or break your long-term financial strategy. From the amount of out-of-pocket expenses minimized by an employer's healthcare package to their contribution match guarantee on a 401(k), all of these factors can help you maintain stability and make it easier to reach your financial goals.
If you're looking employment and would like to know more about the opportunities available with us at Consolidated Credit, visit our Careers section or email your resume to [email protected].