Goodbye Landlord, Hello Lender
However, renters may find it difficult to qualify for mortgages on affordable homes.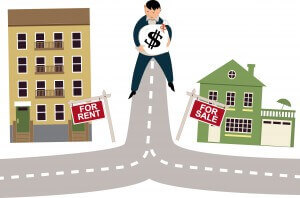 With the New Year came good news in the housing market recovery, and as a result the prospect of moving out of a rental into a house has not been brighter since the real estate crash in 2008. What's more, as rental rates increase, mortgage rates continue to decrease, making it sensible to get a mortgage instead of a rental.
A year ago renters spent around 25 percent of their paychecks on rent while homeowners allocated 22 percent of theirs toward a mortgage – only a 3 percentage point difference. This year the rates have changed and those margins have grown.
Now 2015, renters can expect to spend as much as 30 percent of their income on rent while homeowners only have to devote about half as much ­– 15 percent – on mortgage payments, on average. This increasing disparity is driving even more renter's to make the push to become homeowners. In fact a survey by the real estate experts at Zillow finds more than 5 million Americans plan to buy a house this year, up from 4.2 million a year earlier.
"As home affordability continues to look great and rental affordability looks abysmal, many current renters clearly seem to be re-thinking their attitudes toward homeownership, and are expressing more confidence in the overall housing market as a result," Zillow Chief Economist Dr. Stan Humphries says. "But while this confidence is heartening, it's important to inject a note of reality here: Not all renters who want to buy this year will be successful. Saving a down payment, qualifying for a mortgage and finding an affordable home to buy all remain formidable challenges for many."
Millennials lead the push to achieve homeownership
That "many" described above includes Millennials, according to the survey. Millennials are leading the pack as the generation who thinks it makes the most sense to own rather than rent. As a result, 18-34 year olds are taking a proactive approach to achieve homeownership earlier than any generation seen before, and they're confident they can achieve that goal.
Among the 20 major metropolitan markets, renters in San Jose are most confident (71.5 percent) in the housing market and 25,411 renters are looking to buy a home in the next year.  San Francisco residents have a 70.5 percent confidence level and 92,860 plan on moving out of a rental and into a house. In Miami the confidence level is 70.6 percent and 161,052 plan to use a portion of their paychecks on a mortgage instead of giving it to a landlord.
While this is ambitious on the part of renters and Millennials who want to achieve the dream of homeownership, qualifying for a mortgage has not been as easy as it was during the pre-recession years. For instance, the market was recovering with good conditions for purchases last year, but buyers still encountered trouble qualifying for a conventional loans (those not insured or guaranteed by the federal government). Another survey by Zillow found low credit scores and difficulty saving for a down payment were the two major factors preventing buyers from qualifying.
Facing the challenges of transitioning to homeownership
This year, in spite of even better market conditions, these same factors are causing trouble for new homeowners – subprime credit scores, insufficient funds for down payment, plus a short supply of newly constructed affordable homes.
"The reality of what borrowers are experiencing in the mortgage market does not match the popular narrative. Lenders are, in fact, opening their doors a bit wider, especially for borrowers with credit scores below 700," Zillow's chief economist Stan Humphries says. "Modestly easier credit will help first-time buyers get into the market, which will have many benefits. Given all the market has been through the past few years, this is a natural place to be in the housing cycle. We're a long way from again letting credit get too loose, but we'll need to remain vigilant not to repeat the mistakes of the recent past."
The good news is that lenders are loosening their lending strings; access to mortgage financing is slowly recovering to pre-recession levels and home loans have not been this easy to obtain since 2002. However, even in the face of such encouraging news, a report from the National Association of Realtors (NARS) say renters might be in trouble when it comes to saving up for that all-important down payment.
"In the past five years, a typical rent rose 15 percent while the income of renters grew by only 11 percent," NARs chief economist Lawrence Yun says. "The gap has worsened in many areas as rents continue to climb and the accelerated pace of hiring has yet to give workers a meaningful bump in pay."
As rents increase and income remains flat, this poses a challenge for renters who want to enter the market. Renters in New York, Seattle and San Jose California are especially disadvantaged as rent growth far exceeds wages, making saving for a sufficient down payment improbable.
Since 2009:
New York has seen a 50.7 percent hike in rent rates
San Jose California –25.6 percent
Seattle– 32.38 percent
Denver – 24.14 percent
St. Louis – 22.26 percent
NARS says in addition to the disparity between rental costs and household income, the halt in new home constructions is also a major factor in delaying buyer's entry into the market.
"Many of the metro areas that have experienced the highest rent increases are popular to Millennials because of their employment opportunities," Yun says. "With a stronger economy and labor market, it's critical to increase housing starts for entry-level buyers or else many will face affordability issues if their incomes aren't compensating for the gains in home prices."
Ever since the housing bubble, the constructions of new homes have flat lined, leaving the market open to consumers who can afford above average priced homes, but barring lower income earners. Currently the demand for new homes at affordable prices outweighs the supply. This poses a problem not only for Millennials who want to enter the market but also for those who doubled up on housing due to rising rents and awaiting an uptick in the housing market to move out.
Over 160,000 renters in the Miami area according to Zillow expect to buy a house in the next year, but lack of inventory in affordable price ranges may present an additional challenge that needs to be overcome.
What you can do to achieve homeownership
Zealus Stephen, a realtor with Berkshire Hathaway Home Services a real estate company in Miami owned by Warren Buffet, says buying a home is not just about meeting the down payment and closing costs.
"I've seen clients struggle to meet the 20 percent down payment, clients get denied for less than perfect credit scores, and past run-ins with the law in the case of individuals looking to rent," Stephen says. "A 20 percent down payment or more is ideal. Coming up with less would make renting cheaper than a mortgage. But since the cost of rent is the same as a single family home, it makes sense to buy. Instead of helping your landlord get wealthier you'll be building your own equity."
A good way to achieve your dream of homeownership is to start by streamlining your budget. Cut unnecessary expenses and spend less than you earn. The Federal Housing Administration (FHA) offers several lending solutions that could get you into a home with as little as a 3% down payment. This is a dramatic difference from the 20 percent you need for a traditional loan. Use HUD-approved housing counseling services. Not only will you get that homebuyers certificate you need to buy your first home, attending these classes can help you find lending options and government assistance programs that you probably never knew existed. You may even get a discount on mortgage insurance costs.
If you plan on buying a home this year, dial 1-888-294-3130 to speak to a HUD-approved housing counselor. You may also visit our Housing Department for information on Mortgage Assistance, Foreclosure Prevention, Reverse Mortgages for seniors 65 and older. To learn ins and outs of homeownership you may also click here for our schedule of First Time Homebuyer Workshops or here to take the course online for a fee.